Some may say that some brands might be losing their identity in the pursue of innovation and audacious concepts. Being constantly creative and innovative but at the same time respecting the brand's heritage and reputation is a big challenge full of tradeoffs and factors to consider.
One of the cornerstones of the watches and jewelry industry is the highest level of craftmanship, design and selection of raw materials that, together with the client experience, offered by the top brands in this industry, give to the client a sense of exclusivity, prestige and privilege. When willing to spend a considerable amount of money for a piece of jewelry or a watch, clients expect that luxury brands will continue delivering the best of the best and keep up with the exclusivity and privilege that is supposed to define these brands. However, in the past few weeks we have seen two examples of how a brand's reputation can be stained by a controversial choice of design, materials or concept.
In the last few weeks two brands are flooded by controversy, criticism and discontent from their costumers for this exact reason.
---
How beneficial is "controversial buzz"?
Recently, the well-known luxury brand Bottega Veneta had to undergo a considerable amount of bad publicity and mocking on social media. The reason for this viral backlash was the recent launch of two specific necklaces. On the one side the so-called "Phone cord" and on the other side, "the beaded necklaces".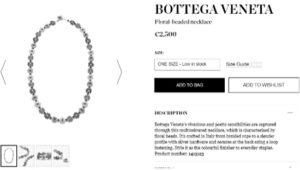 Several fashion magazines, influencers, and blogs did not hesitate to publicly call out the brand for its creations. Affirming that the price of these items was not aligned with the quality nor originality of it. Undeniably, the beaded necklaces, have been around forever. These necklaces, which children used to create during summer camps are a typical characteristic of the 90s. Regarding the "telephone cord" necklaces, which also recall the 90s, many magazines and influencers are highlighting the above-market price of $2,240.
One may argue about the originality behind these two pieces and their related price. Nevertheless, the launch of these two products enabled Bottega Veneta to go viral and create a buzz. Moreover, many fast-fashion companies directly jumped on the opportunity of this new fad by introducing very similar necklaces at much affordable prices.
Even if one may criticize these two necklaces, the brand still managed to convey several associations to the public. Indeed, these necklaces bring back the nostalgia of the better days in the 90s, of freedom, of creation, and the children's recklessness during summer camp.
---
AUDEMARS PIGUET X MARVEL: Not the best start for a perfect love story.
Skepticism around the Royal Oak Concept "Black Panther" Flying Tourbillon
Have you ever experienced a flop by your biggest idol? Well, if you did, that is how most of Audemars Piguet aficionados are feeling now.
2021 has begun with a worldwide hope of new beginning and Le Brassus maison has then decided to launch a brand-new collaboration with Marvel Entertainment, the renowned comics and film producer, on which they have been working since 2017. Inspired by historical character watches, including some by Gerald Genta from the '80, AP wants to pay tribute to past, present and future generation of Marvel characters, as its CEO and superheroes fan, François Bennahmias, has told.
What might seem the ultimate bromance has however started with high criticism. The first timepiece which was born from the collaboration is a tribute to Black Panther, the iconic superhero from Wakanda. The limited edition's futuristic design recalls the cutting-edge suit of the character. The sandblasted titanium case topped off with black ceramics opens onto a hand-painted 3D figurine which isn't some child's toy. That piece is made of white gold, hand-engraved, and then painted by hand, a semi-hypnotizing process which you can watch thoroughly on AP's website. The production is limited at 250 timepieces, at a retail price of $162,000.
More interestingly, Audemars has decided to present a piece unique of the watch in white gold. This latter was auctioned off at a record price of $5.2 million at the release event hosted by Kevin Hart, Hollywood actor and comedian, and several other celebrities.
Audemars Piguet is not new to collaborations. On the contrary, they had been very smart to exploit them with the aim of expanding their customer base. The ventures with NBA star LeBron James and rapper Jay-Z were exactly made for that reason and, as a matter of fact, they were able to open the historical watchmaker to a completely new set of collectors. In those cases, however, skepticism was wiped away as soon as the watches were released. With Marvel, instead, that does not seem the case. Critics has gone beyond imaginable when the Black Panther-themed royal oak was presented, even if it is just the first piece of many. Indeed, it can be hard to wrap your head around the idea of someone paying more than 100 grand for a superhero watch which feels more Swatch (with all due respect) than haute horology.
The idea by AP is that such a watch is for a more modern and new kind of collector, one who appreciates summer blockbusters as much as tourbillons. However, most of watch lovers  have another idea in mind, and they clearly expressed it through social medias. Harsh critics read "Are you going to sell the prestige of AP craftsmanship to a pop culture brand?", while others express dissatisfaction by making fun of the timepiece itself. People on Facebook commented under the ad hoc post with: "Was very disappointed this wasn't April fool's joke", "Wakanda crap is this?" and "Disney watch $100?".  People's discontent is indisputable and indeed easily shareable.
---
Authors: LBSS Watches, Jewellery & Arts, Elena Wathelet, Francesco Macchi del Sette
---
Sources: (Matches Fashion, Daily Sabah – telephone cords, L'Officiel – beaded necklaces, Hypebeast – home phone cord, Audemars Piguet – Audemars Piguet x Marvel, Audemars Piguet – royal oak concept, GQ – Audemars Piguet black panther royal oak concept)