It could have been there for centuries, in the middle of the sun-drenched fields close to Savelletri di Fasa, a village perfectly set in the heart of the Pouilles region a few hundred meters from the Adriatic Sea. Inspired by Apulian villages, Borgo Egnazia is one of the engines of Apulian tourism's international boom.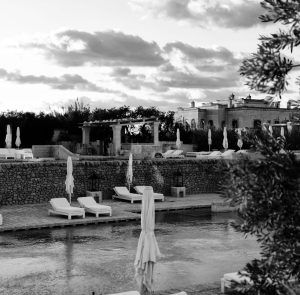 The Melpignano family behind this ambitious project have done everything to make it reminiscent of luxury well-being. The structure, designed by Pino Brescia
for Aldo Melpignano's family group, is home to refined suites, private villas with swimming pools, tuff buildings and antique streets. A few steps away from the Adriatic Sea, surrounded by centuries-old lemon and olive groves, the clean limestone buildings shine impressively.
Designed around three areas – La Corte, Il Borgo and Le Ville – the establishment has a feeling of "la Dolce Vita". La Corte is the central building composed of rooms elegantly furnished in both Mediterranean tradition and contemporary design like a modern interpretation of a traditional masseria.
The Borgo is the beating heart of the structure. Its architecture recalls a typical historical rural center with streets and corners of an Apulian village, suspended in a timeless dimension, between tradition and simplicity.
The villas are furnished in a more classic style and equipped with every comfort. Adjacent to the main body of the structure, they are ideal for a relaxing stay, immersed in the tranquility of the Mediterranean. Bedrooms are elegant and bright with creamy beige details.
The bar selection is quite huge, in fact the hotel offers three of them: Bar del Portico where you could taste re-interpretations of classic cocktails with an exclusive Puglian touch, Capanno which overlooks the two enchanting pools, and Angoletto, a white hideaway full of fresh flowers where you can enjoy a homemade ice cream or a Pucci Pugliese.
As for restaurants, we can find seven of them inside Borgo Egnazia. The stand-out Due Camini Restaurant has a Michelin star. Other equally worthy options are La Frasca Restaurant, Calamasciola, La Calce, Mia Cucina, Da Frisella and Dine Around. To offer guests the true Apulian experience, the restaurants are all furnished with local, seasonal products, including fruits and vegetables grown onsite in the organic kitchen garden, fish from the Adriatic Sea and extra-virgin oil made by Masseria San Domenico.
The choice to prioritize local products is only one aspect of Borgo Egnazia's sustainable vision. Another is plans to eliminate any use of plastic and minimizing its carbon footprint especially in the food and beverage operations. Their strategy also counts on its own natural cosmetics line made of natural products and its staff of local people. The resort also includes a store, the Bottega, that showcases homemade clothes, home accessories and jewelry. Moreover, after its reopening consequent to the pandemic, the hotel provides an interesting and eco-friendly service. Guests can rent a selection of vintage cars, ranging from the Fiat 850 to Fiat 500, all restored with an electric motor, to discover Borgo Egnazia and its surroundings.
Healthy living and wellness are indeed the principles of the founding family. A fully equipped spa offers all kinds of treatments, from Roman thermal baths, flotation tank and cryotherapy to massages and facials. Borgo Egnazia also hosts the Blue Zone Retreat four times a year, invented by Dan Buettner, a famous best-selling author, that includes a plant-based meal routine, workshops and various experiences.
Considered one of the best golf clubs in Italy, San Domenico Golf is a prestigious 18-hole course overlooking the sea of Puglia: 6300 meters of winding lawns along the ancient olive trees down an enchanting stretch of Adriatic coast offering spectacular views of the sea. As the Italian stage of the PGA European Challenge Tour Grand Final, San Domenico Golf was helmed by European Golf Design, which has created some of the most prestigious international golf courses.
Did you know? 
Since its opening 11 years ago the resort is one of the Leading Hotels of the World and won many prestigious awards, such as the "Most Life Changing Experience" Condé Nast prize back in 2017 and it is rated 1st among Italian Resorts in the category Travel+Leisure, 4th in the category Top 10 European Resort Hotels and 43rd in the Top 100 Hotels in the World according to the World's Best Awards 2018.
Moreover, Borgo Egnazia is very much loved and recognized by Hollywood stars, to the point that Justine Timberlake chose it for his wedding with Jessica Biel, Madonna to celebrate her birthday and it was also chosen by David and Victoria Beckham as a destination to spend relaxing vacations with their children.