Here's some of LBSS's favourite bars in Milan, Italy.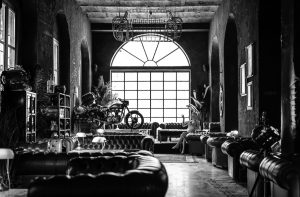 Officina: classified as one of the "World's 50 Best Bars", Officina offers the perfect combination of mixology and timeless elegance. It is located in a reserved courtyard and has a magnetic retro atmosphere. Inside the bar feels like a New York loft as it is decorated with vintage furnishing elements, plush leather sofas, table lamps, motorcycles, and vintage cars. The majestic backlit counter, however, steals the show and their drink features daring but delicious combinations.
Nottingham Forest: well known as one of the best cocktail bars of the world where every drink is a piece of art. The inspiration for the bar's extensive cocktail list is drawn from everything from molecular gastronomy to contemporary art. You can find cocktails served in a seashell, in a bathtub, or an IV bag, guaranteed to give you an incredible and unique experience. The bar itself is decked out like a pirate's lair, and the walls are filled with trinkets collected from all over the globe.
The Botanical Club: home to Italy's first gin distillery. It is one of the few places where you can try their spectacular Spleen et Idéal branded gin, which seems to sell out before it even hits the shelves. The cocktail menu was specifically designed to highlight the botanical qualities of gin, though there are lots of other great options of spirits to choose from.
Bar Basso: the bar has been around since the '40s and is known for inventing the cocktail "negroni sbagliato" which replaces the gin in a normal negroni with prosecco. This place is packed every night and is extremely popular both among Milan's young residents as well as its old-timers.
The Doping Club: makes you feel as if you were catapulted into a gentlemen's club in Old England. The atmosphere of the bar is very warm and retro as it is decorated with leather details, vintage objects, and rosewood. Their menu offers a great variety of wine, spirits, liqueurs and refined cocktails beautifully prepared by the bar's exclusive mixologists.
Mag Cafe: more of a state of mind rather than a place. The bar is always crowded but at the same time it manages to offer a hidden corner of peace away from the chaos of the city. The cocktail list changes every six months and the bartenders always provide the best possible drink experience for their guests. Sidenote: if you manage to befriend the waiters at Mag Cafe, they might give you a hint on how to find the 1930 Speakeasy, the most exclusive and intimate speakeasy of Milan, to which only a very small selection of people has access to.
N'Ombra de Vin: the most evocative place when you think about and talk about wine in Milan. Set in a 16th century friar's refectory, the bar-wine cellar welcomes its guests within vaulted ceilings and ancient stone walls as it is dramatically lit with candles throughout. The bar has a gothic feel and provides the perfect atmosphere for an intimate dinner or late-night drinks.
Rita & Cocktails: just off the Naviglio Grande Canal, the bar offers an exciting menu, great vibes, in classic Milanese fashion. It is considered a landmark for modern mixology and a reliable spot for inventive cocktails. Their signature cocktail is the GinZen, a fresh and spicy drink based on crushed ginger, lime, and gin.
Ceresio 7: the definition of Milanese glamour. The bar is a unique space located on the rooftop of the historic Enel building which lays out the city's skyline before you at 360 degrees. This lofty venue with two pools, a cigar room and sleek interiors is owned by Canadian fashion designers Dean and Dan Caten, whose label Dsquared2 is located next door.
#StayTunedForLuxury