The nominations for the 2022 ceremony of the Oscars have recently been announced and while everyone is betting on who might win, we cannot wait to see the precious jewels that will be worn by the protagonists of this year's red carpet!
In the meantime, we might as well have a look at what celebrities have worn on the red carpet in the past years.
One of the most historical pieces ever worn at the Oscars is undoubtedly the Taylor-Burton diamond, worn by Liz Taylor at the awards in 1970. The diamond is well known as a symbol of the passion between Richard Burton and Elizabeth Taylor. The 241-carat rock was found in the Prime Mine in South Africa and then cut by Harry Winston's jewellers. The first owner of the diamond, Harriet Annenberg Ames, never felt like wearing it, so she chose to sell it. When the news spread, it caught the interest of many admirers, and when the auction was planned for the 23rd of October 1969, Burton sent a representative with a maximum offer of 1 million dollars; at some point, the two contenders left were Burton's representative and Al Yugler, representing Cartier, and the diamond was sold to the French Maison for 1 050 000 dollars, as Burton's representative could not bid more because of the given limit. The next day, Burton ordered his lawyer to buy the rock at any price.
"I turned into a raving maniac and insisted that he get Aaron on the phone as soon as possible. Elizabeth was as sweet as only she could be and protested that it didn't matter, that she didn't mind if she didn't have it, that there was much more in life than baubles, that she would manage with what she had. The inference was that she would make do. But not me! … I screamed at Aaron that bugger Cartiers, I was going to get that diamond if it cost me my life or 2 million dollars whichever was the greater. For 24 hours the agony persisted and in the end I won. I got the bloody thing", Burton later wrote in his diary.
Before handing over the diamond, Cartier exposed it in the Fifth Avenue's boutique and six thousand People queued out of the shop just to have a glance of such a famous jewel. The diamond was then shipped to Montecarlo along with two other cases as decoys. Taylor first wore the diamond at Princess Grace's Scorpio Ball, and the next year she wore it with a blue dress at the 42° edition of the Academy Awards, when she presented the prize for best movie. In the same year, she wore the rock as a ring for Burton's birthday, in 1978 the two got divorced and Taylor chose to sell the diamond to Henry Lambert for a price between 3 and 5 million.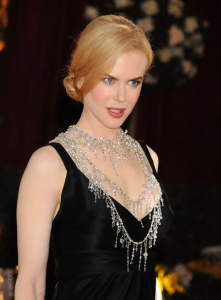 A star we are surely thrilled to see again on the red carpet this year is Nicole Kidman, who got her fifth nominee this year for the movie "Being the Ricardos". How could one forget the 2008 Awards, when she was dripping in diamonds, wearing a custom-made 1400-carat, 7 million necklaces by L'Wren Scott with a simple black Balenciaga dress. The sautoir contains a total of 7645 diamonds including rough faceted and polished diamonds, it was designed by Scott and manufactured by Uni-Design Ltd. Each diamond was individually selected by the designer to fit the result, which required 6200-man hours to handcraft.
We can't wait for Kidman to overtake her past self this year, but it might be hard after having worn one of the most famous pieces of jewellery ever worn on a red carpet.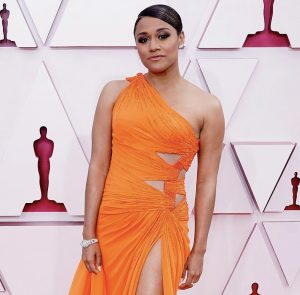 Ariana DeBose is a newly Oscar nominated actress, making history as the first Afro Latina openly queer woman to ever get an Oscar nomination. Let's see what she wore to the award ceremony last year, while waiting for her next time. At the 2021 red carpet Ariana enjoyed her moment in the spotlight at her first Oscars, with a stunning one-shoulder orange Atelier Versace asymmetric cut-out gown from the Fall-Winter 2020 collection and with some Harry Winston diamonds, including these Sparkling Cluster earrings, featuring 16 round brilliant and 4 pear-shaped diamonds weighing a total of 4.27 carats, set in platinum. Sparkling Cluster is a stunning fine jewellery collection that recalls Mr. Winston's enduring commitment to making brilliant celebrities shine even brighter with magnificent diamonds. In addition to it, a Secret Wonder Diamond bracelet, and a Sparkling Cluster Diamond ring among others, which made up to a total amount for the jewels of 26 carats. What is interesting, is the fact that both Harry Winston and Versace had no problems in lending their products to a newcomer like Ariana, recognising her talent right away, which in the past would have been a bit of a struggle. You want to know the price? Then you must book an appointment, because according to Mr. Winston every diamond is unique and special…and might therefore differ in price. Suit yourself then!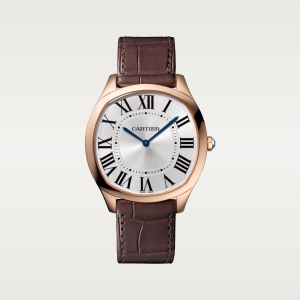 One of our male protagonists of this years' Academy is the very well-known Jamie Dornan, who, even though has not been nominated in any category, has certainly made an impact with his performance in the movie "Belfast".
Back in 2017 Jamie Dornan showed up at the Oscars with a very charismatic watch, the "Drive de cartier Extra-flat". This model, that was created by Cartier in 2016, features a unique design, defined by a curved case, domed crystal, and sapphire dial. Its refined silhouette, masterful proportions and in-house movement make it a flawless staple of timeless elegance. It features a Manufacture mechanical movement with manual winding, and a stunning rose gold case with the matching octagonal crown. The worth of this splendid Cartier is of a "moderate" value of 15.000 €.
We have seen how diamonds are an Academy Awards attendee's best friend, giving celebrities the most unique ways to shine. In ninety years of history, we have seen countless impressive rocks and we are yearning for this year's gems to make, once again, history.
Photo Credits: @jeffkravits @harrywinston @cartier