Herve Leger is a French fashion house celebrated for its iconic bandage dresses which became an instant sensation in the 90s and early 2000s. Founded in 1985 by Hervé Peugnet, who started his career by designing for renowned fashion houses such as Fendi, Chole, and Chanel before venturing out on his own. The brand quickly became known for its designs that celebrated the sexually-charged femininity of the era by embracing and enhancing every single curve of the wearer's body.
The brand soon gained recognition for its unique technique of stitching together individual strips of material that shaped and sculpted the body. The form-fitting dresses became popular among A-List celebrities, including Cindy Crawford, Karen Mulder, Naomi Campbell, and Kim Kardashian, who helped establish the brand as a go-to for red carpet events and Late night outs.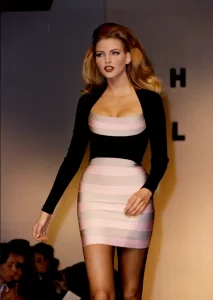 However, the success of the brand today did not come without its challenges. In 1998, the brand was sold to BCBG, which halted production on the iconic bandage dress, and soon after fired Herve Peugnet as he no longer was the majority holder of the company. It wasn't until 2008 that the bandage dress was relaunched, creating a new wave of consumers for the company. At this time, the company was also facing restructuration from management as they became BCBG Max Azria Herve Leger, making it the first-ever acquisition of a French couturier by an American designer. Christian Juul Nielsen currently serves as the creative director of the brand and has been leading the brand towards revisiting its original Parisian roots with an undercurrent of effortless, modern design.
The Herve Leger bandage dresses have only been in production from 1989-1997 and from 2008 to the present day. Despite this, the brand's legacy lives on, and the dresses remain an iconic symbol of fashion history. The brand has expanded its product line to include bodysuits, skirts, tops, sweaters, and jumpsuits, while still maintaining its signature style of form-fitting designs.
Today, the brand is not as well-known as it was in the past, but its influence can still be seen in modern fashion trends. Herve Leger's legacy and iconic dress have left a lasting impression on the fashion world, making it a staple that will always be remembered, but the true question becomes will it make a new reappearance as trends today are being more and more influenced by 90s and early 2000s trends?