The alliance between food and fashion is an increasingly widespread phenomenon, not only in Italy but all over the world. For about a few years we have witnessed the opening of bars , cafes and restaurant by great stylists, which were born under the name and the fame of important luxury fashion brands . Many luxury brands are approaching the culinary art in an innovative way, in line with their own style. These are in fact gourmet restaurants, sometimes with starred chefs, but also exclusive bars and cafes. 
What was thought to be a simple passing trend turned out to be a different one , which is associated with the prestige of the fashion brand itself. In this way the designers aim to break the mold, not limiting themselves to creating new collections but trying to give their followers points of reference. The birth of luxury bars and cafes, 5-star hotels, inclusive restaurants is linked to taking fashion off the catwalk.
 Milan is known for being the capital of fashion, it is no coincidence that it is characterised by the presence of many places signed by great designers. One of the first who focused his activity on creating a real lifestyle brand was Armani: it is located in about 20 countries around the world, from Cannes to Dubai, from New York to Tokyo. In Milan, the Armani universe is characterised by the presence of the Armani Restaurant, the Emporio Armani cafe and restaurant , but its success is also due to the prestigious sushi that can be enjoyed at Nobu.
Pic : Armani.com
In Milan there are the Martini Bar and Bistrot by Dolce & Gabbana too, which it's one of the best for  sipping an excellent cocktail; there's also the new Ralph Lauren boutique which is located in via della Spiga, with a bar inside where you can taste the American designer's favorite dishes revisited in an Italian key.
In the heart of Florence there's Gucci Osteria: the peculiarity of the restaurant is that it is located inside the Gucci Garden, a multi-sensory garden which, in addition to the Osteria, houses a boutique, a gallery and a bookshop, in an environment that reflects the aesthetics of the maison.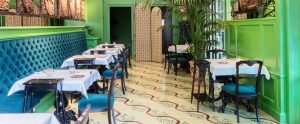 Pic: Gucci.com
Another important case is The Blue Box Caféby Tiffany, located on the fourth floor of the headquarters, on New York's Fifth Avenue. The restaurant recalls the blue color of Tiffany, from the walls to the furnishings, from the plates to the napkins.
Pic: vanityfair.com
This phenomenon is aimed at reaching the consumer not only by offering high quality products, but also by entering people's lives, by  offering exclusive experiences. A dinner at the restaurant or a coffee at the bar become moments linked to places capable of satisfying the senses of the consumer. This is what makes these luxury brands real lifestyle brands. Stefania Lazzaroni, general manager of the Altagamma Foundation, which brings together companies of Italian excellence, says:  "The combination of fashion and haute cuisine is the sign of an evolution that has been underway for several years; the big luxury brands are not enough just to make clothes and influence the world of fashion, they need to invest in the high-end catering sector, that is, in what characterises a comfortable and quality-oriented lifestyle. "