Dear students, interns, graduates, fashion-atics in all forms,
This Manifesto is LBSS x Fashion's end-of-the-year report. Curated by each one of our individual team members, it contains both general and personal approaches to diverse aspects of the fashion industry. 
This is our take on the state of fashion. 
From us, to you,
Management Spiral
2023 marked the year of significant internal changes in a plethora of fashion-leading houses. Most shocking were the appointments of new creative directors, along with saying goodbye to our favorite brands, or rather hello again to long-lost ones.
Among many established and renowned directors, contemporary young names were announced as the new leading creatives of the biggest brands in the luxury world. Here are some of the most impactful directory changes in the fashion industry in 2023 this far and other important news you might have missed.
Daniel Lee for Burberry 
Ricardo Tisci's departure completed a series of changes in the top management of the luxury retailer as Daniel Lee took over Burberry on October 3rd 2022. He presented his debut collection at London Fashion Week in February 2023. Daniel's appointment was mainly for financial reasons, as Ricardo's designs didn't seem to resonate with either the public or social media.
Harris Reed for Nina Ricci
Harris Reed became the youngest-ever creative director of Nina Ricci in its 91-year history, at only 26 years old. Being known for extravaganza, shapes, and volume in his eponymous brand, Reed brought his vibrancy to the debut collection at the beginning of the year. 
Pharell Williams for Louis Vuitton
After the impressive success of the late Virgil Abloh's vision in LV's men's RTW, the singer and designer Pharell Williams was appointed as the new creative director to uphold Virgil's legacy. Having had experience with Chanel and Adidas amongst others, Pharell was definitely a surprising yet promising choice. His first debut collection stared just last week in June during Paris Men's Fashion Week. 
Maximilian Davis for Ferragamo
As a traditional Italian, family-owned label, Ferragamo surprised the fashion scene when they appointed 27-year-old British Maximilian Davis. Davis dropped out of the LVMH Prize competition to take a new position and did a fantastic job of reinventing archival looks with a modern twist in his debut collection. 
Jeremy Scott leaving Moschino, Tom Ford's departure, and Raf Simons' closing
This year brought about some sad news as well. Raf Simons's eponymous label will be closing down for good, leaving the Belgian designer in charge of Prada only. Jeremy Scott also announced his departure from Moschino after more than 10 years together. Last but not least, Tom Ford is saying goodbye to fashion after selling his label to Estee Lauder.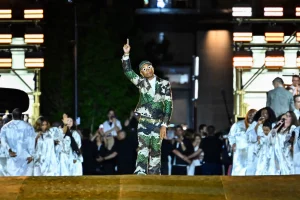 photo credit: Aurelien Meunier
New direction, new initiatives…
Sustainability and Second-Hand Fashion 
The $3.5 trillion fashion industry has a significant environmental impact, with 20% of global water waste, 10% of carbon emissions, and nearly ⅗ of clothing ending up in landfills or incinerators within a few years. However, the 2022-2023 season saw an even bigger push towards sustainable fashion, driven by consumer demand and environmental awareness. To achieve sustainability, clothing companies are adopting new technologies such as 3D virtual sampling, which reduces waste in design and development, while alternative textiles like recycled fibers and agricultural waste materials offer durable and biodegradable options. Automation and on-demand manufacturing minimize waste by producing clothing when ordered. Mobile body scanning improves the size and fit accuracy, reducing returns. Efforts to create a circular economy involve designing waste out of products, incorporating renewable materials, and re-commerce through second-hand sales and upcycling. Through implementing sustainable practices, brands align their values with those of consumers, and as a result, improve business success and reduce waste.
This season also saw a rise in the demand for second-hand fashion. With sites such as Vestiaire Collective as well as the growing popularity of thrift stores, pre-loved items have seen a resurgence in consumers' closets. The popularity of vintage fashion is on the rise, driven by the excitement of discovering rare items and increasing environmental awareness. Second-hand resale is projected to grow by 127% by 2026, surpassing conventional shopping. Buying secondhand fashion can reduce an item's environmental impact by 90%, as revealed by a study from Vestiaire Collective and PwC. The report also highlights that 70% of Vestiaire Collective users admitted that buying secondhand prevented them from buying new garments, marking a 17% increase compared to previous studies. The secondhand market, worth $120 billion to fashion brands and retailers, is expected to save over $40 billion in environmental costs by 2030. This demonstrates the significant impact that consumers' interest in sustainable fashion will continue to have on the industry.
Innovative fabrics 
With the growing impact of climate change and global warming in our lives, fashion houses are exploring new genuine and sustainable fabrics in order to reduce the impact of the fashion industry on our planet's health. 
The most experimented and promising is alternative leather. This material whether made of mushrooms, cacti, apple, mango or others can be made using farms powered by renewable energy and reduces food waste. The first luxury brands to debut in this field were Stella McCartney in 2021 who launched the first garment made from Mylo followed by Balenciaga's fw22 black Ephea coat. 
Another alternative first introduced by Salvatore Ferragamo in 2017 is orange fiber, a very soft, lightweight and silk-like fabric that can help reduce the hundreds of thousands of orange waste. 
The last material we are going to mention, probably the most known, is recycled polyester or rPet. It's a very strong and durable synthetic fabric made from plastic bottles and containers. Its versatility makes it perfect for activewear and outdoor gear but also bags and shoes. This trend is spreading mostly in the sneaker game with collaborations like Adidas & Sean Wotherspoon, Reebok & Hardy Blechman, or Nike & Billie Eilish, restyling iconic silhouettes with an eye on sustainability.
From my perspective, this is a very fast-growing segment of fashion and firms have all the interest in investing, primarily for sustainability reasons and future care but also for economic and image returns coming from the innovation. 
Gender Fluid Fashion 
The fashion industry is experiencing a shift towards gender-fluid fashion, driven by younger generations, particularly Gen-Z consumers who challenge society's binary division of gender into man and woman. Brands and retailers are responding to changing consumer attitudes towards gender by implementing gender-fluid strategies in product design, marketing, in-store, and online shopping experiences. This trend is not limited to high-fashion runways, as online searches for "genderless" and "gender-neutral" fashion are increasing year after year. Gender-fluid fashion is expected to be well-received by consumers worldwide, in Europe, Japan, North America, and South Korea in particular.
Gender-fluid representation in fashion media has become ubiquitous, and the British Fashion Council has already announced that London Fashion Weeks will no longer separate menswear from womenswear. In the past, gender-neutral clothing was a small market catering to niche or high-concept customers. Fashion designers like Yohji Yamamoto offered "unisex" clothing to affluent individuals. Nowadays, gender-neutral clothing has become more prevalent and vivid. The latest gender-inclusive fashion no longer avoids color, but instead incorporates the bright colors of the LGBTQ+ flag. In 2023, we can expect to see more designers creating genderless collections and more celebrities challenging the boundaries of traditional menswear; additionally, using fashion to broaden the concept of masculinity could potentially reduce toxic masculinity. 
In summary, the shift towards gender-fluid fashion is here to stay, and we can expect to see more of it in the mainstream market in the coming years. It is important to note that gender fluidity is not just a trend but a reality for many individuals, and the fashion industry is responding to their needs by creating more inclusive and diverse designs.
Events to look forward to 
The dynamic and constantly-evolving nature of the fashion industry has placed it in a non-stop loop of innovation and creation. Leaving another successful season behind, let's look at what the fashion industry has in store for us in the upcoming seasons. 
First and foremost, the New York, Paris, London, and Milan Spring/Summer 2024 Fashion Weeks will take place in September. The fashion shows will include many well-known brands, presenting their latest collections. Some predictions for the trends in the upcoming shows are chic, classy, and refined designs, blurring the line between feminine and masculine fashion. 
Suits were one of the most frequently seen items this year on almost all the catwalks, paired with either trousers, sexy mini-skirts, or mid-length skirts. Being a classic and timeless design, the item is certainly expected to return in the upcoming runway shows. Bustiers have been spotted many times on the runway as well, replacing the erotically connotated "corsets", and instead focusing on a classier way of adapting it to everyday clothing like coats and trenchcoats. We may see more creative adaptations of the design very soon. The "no-pants" look, which was initiated by celebrities, is also another trend that was recently spotted on runways. Pairing tights and knickers with an oversized jacket, designers seem to love the idea and will probably continue using it in the future. Transparent clothing has been trending lately as well, from skirts to tops that expose undergarments. Speaking of revealing items, the "tiny bra" culture has been growing, where breasts are barely hidden under the miniature designs. Last but not least, designers have been using men's fabrics and clothing for women's wear from ties to waistcoats; altered to be tighter to give it a more flattering look, usually pairing them with trousers. Although the fashion industry is constantly evolving, these items will likely be making a strong comeback next season. 
Another event to look forward to is the return of the famous Victoria's Secret fashion show this year, after a 4-year-long break. The iconic show's cancellation was announced in November 2019, due to criticism that the brand lacked diversity – models of all sizes and backgrounds. The company also faced backlash in February 2020 after The New York Times accused the brand's former CMO Ed Razek of sexual harassment, bullying, and creating a culture of misogyny, which he had denied at the time. Recently, in March 2023, it was revealed that the fashion show is making a comeback this year, after its long pause of rebranding. A Victoria's Secret spokesperson stated; "Today, we are proud to be a different company, with a new leadership team and mission to welcome, celebrate, and champion all women." Dubbed "Victoria's Secret World Tour," the new and improved show will bring together a cast of international women creators from four cities all around the globe.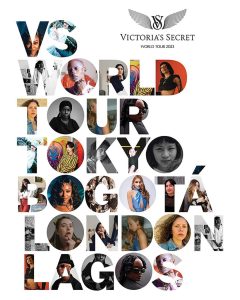 Until next year,
LBSS x Fashion