In what projects to be the highlight of the year for watch fanatics worldwide, Phillips will be auctioning a special Patek Philippe watch owned by the last emperor of China's Qing dynasty later this year. This unique watch carries a fascinating story that makes it an intriguing candidate to challenge auction records of the past.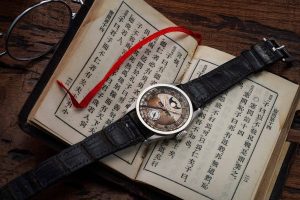 cc: @bloomberg
The watch's owner, Aisin-Gioro Puyi, was crowned emperor of the Qing dynasty in 1908, but was forced to abdicate the throne in 1912 during the Chinese Revolution. He obtained the watch within the period of 1934-1945, during which he was Japan's puppet emperor of the state of Manchuria. Puyi was taken captive by the Soviets at the end of World War II, and was kept in captivity for five years. Throughout the turmoil, Puyi managed to hold on to his precious watch and make friends in the most difficult of circumstances, the most notable of which was his Russian translator Georgy Permyakov. Puyi was repatriated to the Republic of China in 1950, and since he believed he would be executed, he gave his watch to Permyakov. After Permyakov passed away, his family kept the piece until recently, when they sold it to the anonymous European collector that's now bringing it to auction. As for Puyi, he was sent to a Chinese re-education prison for a decade before being released to live out the rest of his life as a private citizen. 
cc: @kaiserreichofficialwiki
Even if one was to ignore this watch's rich history, its rare makeup and characteristics make it incredibly sought after and therefore valuable. Aurel Bacs, the auctioneer behind the sale, describes the watch model as the Reference 96 Quantieme Lune, featuring a moon-phase and triple date calendar: Two windows show the day of the week and the month, and a long central hand gives the date. Complications that go beyond standard timekeeping like these are expected today, but the watchmaking sector of the 1930's had very different output capabilities. Back then, shrinking components to fit extra features was a novelty only skilled artisans could accomplish. This is evidenced by the initial price tag of the watch – when Patek Philippe created eight models of Ref96, it was one of if not the most expensive watch models that the brand made at the time. And to make this particular piece even more unique, this watch is one of only three Ref96 models with a silvered dial, rose-gold chapter ring, and enamel hour markers. 
Pricing for high-end watches is a complex subject – Patek Philippe bought one of the three aforementioned Ref96 models in 2003 for a whopping $2 million at auction. The collector's market has come so far in 20 years that it's hard to say what one of the Ref96 models would sell for today. Additionally, when an item has a unique story behind it, pricing is further complicated – for example, when Paul Newman's Rolex sold for $17.8 million, the provenance of the item added 17 times the value of the estimate. Similarly, when Elizabeth Taylor's jewelry collection sold at Christie's, pieces sold for over five times their estimate due to their backstory. 
The Watch of the Qing Emperor's one-of-a-kind story alongside its unique physical design make it near-impossible to price. Even Aurel Bacs himself admits that he is struggling with how to price the piece. The most expensive watch ever sold was the Patek Philippe "Grandmaster Chime", which went for $31 million in 2019. Does the emperor's watch have a fighting chance to break this record? Maybe not, but one would think that it will sell for at least seven figures, with my personal appraisal placing it above $5 million. Only time will tell, but it's undeniable that this upcoming Ref96 auction will be an exciting event that watch fanatics around the globe will be tuning in to follow.