Our thoughts are with all Ukrainian people suffering from the recent Russian military attacks, and concrete support to Ukraine is needed now more than ever. Beyond sharing information, donating and participating in peace demonstrations, choosing made-in-Ukraine designs is a great way to give voice back to a threatened nation. Known for taking inspiration from their rich cultural background, Ukrainian fashion brings traditional embroidery to modern designs. Here is a guide to the most stylish current Ukrainian brands: 
Vita Kin: this brand drew the fashion industry's attention during Paris Fashion Week 2015, when it started using Vyshyvanka designs, a traditional Ukrainian embroidery, in a more modern version. 
Paskal: founded by designer and architect Julie Pascal, this brand is famous for its laser-cutting technique, a mixture of sharp lines, and romantic style, resulting in a delicate and evanescent aesthetic. Paskal won the LVMH Prize in 2014.
Sleeper: the label appeared in 2014, founded by Asya Varetsa and Kate Zubarieva, and became known for its line of sleepwear that can also be perfect in everyday life. Its feather-trimmed pajamas and candy-colored and floral linen dresses are both comfortable and stylish, at home or a party.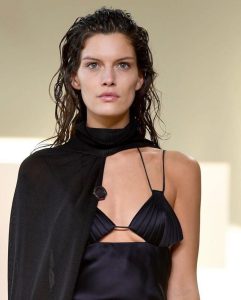 Bevza: known for particular knits and dresses, its AW collection has just been presented during NY Fashion Week 2022. Svetlana Bevza's style is both elegant and essential, with particular attention to sustainability, as many designs are made of recycled materials and deadstock fabrics, and innovative usage of animal fabrics, such as imitation fur prints.
Ksenia Schnaider: a Kyiv-based brand, famous for its attention to sustainability, as many of its items are made of reworked pieces. Their signature style combines patchwork and denim. The brand has recently gained the attention of celebrities such as Dua Lipa and the Hadid sisters, reaching an international audience.
There are many other beautiful brands to find inspiration such as Ienki Ienki, well-known for its puffer coats, Frolov, a gender-fluid brand, Chereshnivska (the AW22 line includes pieces made of military parachute silk), Kachorovska, Nadya Dzyak, Ruslan Baginskiy, and 91LAB.
Ukrainian fashion brands are continuously sharing information on their social accounts and contributing to the resistance. To support them, as shipments are temporarily suspended, they are suggesting extra shopping activities.