In the span of four days, from the sixth to the eleventh of September 2021, Cannes hosted one of the biggest boating shows in France. On the Côte d'Azur, the festival brought together people from all over the world, succeeding in breaking the attendance record it set in 2019. All of the well-known yachting brands, such as Swan, Beneteau, and Bavaria were present and ready to mesmerize the visitors with their latest models and technology. From jewelry and lounge experiences to going at sea on unique yachts, visitors could embark on various journeys meant to engage their free spirit.
Sailing still preserves a certain heritage to its name — from ancient times, man sought to discover more and more with a never ending thirst for knowledge and exploration. Going out to sea gives one the freedom to decide his journey, surrounded by nothing but expansive beauty. Over a century ago, brands started to view sailing as a luxury experience and started work to design unique yachts that can give its sailor the idea of perfection and timelessness. The Cannes Festival started in 1977 and aimed at creating a space of luxury and exclusivity. From customized entries to VIP lounges, the visitors were encouraged to discover for themselves what freedom means.
One of the many activities of the packed schedule was the "Concours d'elegance", a beautiful parade of unique small boats meant to be displayed for their beauty. The first prize was won by Frauscher 1212 Ghost, which was also crowned as the "Boat of the Year 2021" in Boot di Dusseldorf. It features an ingenious design made to cater to high speed rides and give the image of a beautiful synergy between the blue of the sea and the woodwork of the boat.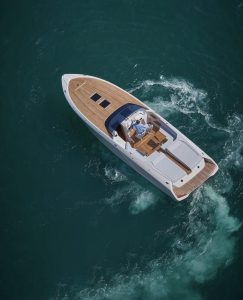 The first prize winning boat: Frauscher 1212 Ghost; photo of @frauscheritalia
Many yachts have been present, from new models and second-hand products, to sailing boats and huge motorboats. Given the recent concerns regarding the environment, many brands developed new ways to tackle the issue of pollution: motorboats developed with electrical power, some powered by solar. But, sailing boats' priorities still remain: a safe journey for the climate and comfortable feeling for its crew.
A multitude of sailing brands brought forward their newest models. One of the most luxurious catamarans was the SUNREEF80, a piece of art meant to serve the wildest and finest visions of any luxury consumer. With 4 bedrooms on board, the catamaran aims to provide a luxurious and comfortable journey whilst remaining harmonious with nature. The catamaran's outlines are those of a vision, with a design reminiscent of the lapping waves below. Sailing has become more than an activity, it is a dream come true.
                                                                  One of the launched yachts: SUNREEF80; photo of: @sunreefyachts