Is the luxury world moving to a new transparency level?
The answer is yes, and let us explain to you why. On April 20th, 2021, the Prada Group, LVMH, and Cartier, a Richemont member, announced the formation of the Aura Blockchain Consortium. This move encouraged the use of a single unified traceability system that is open to all luxury global brands aiming to provide consumers with far more transparency and traceability.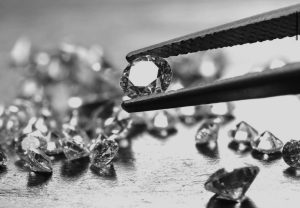 The Aura Blockchain Consortium is a non-profit organization founded on the belief that collaboration and competition can coexist while pursuing similar goals for the greater good. Aura has created a comprehensive suite of solutions that cover the whole luxury lifecycle, upstream and downstream, thanks to its revolutionary blockchain technology. The customer journey and experience are at the center of the solutions, which include provenance sourcing, methods for communicating authentication, sustainability, digital tokens, and NFTs. All of these provide a personalized service that allows luxury businesses to engage directly with their customers.
The Aura Blockchain Consortium's technology allows direct access to product history and proof of authenticity for consumers. They can easily and transparently follow a product's lifecycle from conception to distribution and thus enhance their relationship with luxury brands. The customers receive numerous benefits with this movement. They can track the entire product lifecycle through a unique digital ID for each product. Additionally, they also get to receive the product's authenticity certificate at the time of delivery which gives access to the product's full information and history. With this update, moreover, brands give consumers the opportunity to keep track of any maintenance and repair procedures. In the case of reselling, it will be simpler than ever to provide to future buyers the authenticity of a product. The specific algorithm will also work to detect counterfeit products.
Prada Group, LVMH, and Cartier continue to set industry standards through their exceptional partnership and the development of a highly sophisticated and modern technology. Their goal is to create innovation and improve consumer trust in the brands' sustainable practices and product sourcing, and they have managed to achieve a big part of this goal. At the same time, they have achieved a solution that can deal with all luxury brands' common threat: counterfeiting.
Lorenzo Bertelli, Prada Group Head of Marketing & Head of Corporate Social Responsibility said: "In an incredible journey together with our luxury partners and in a trustful collaboration never seen before in our sector, we have created an exceptional and innovative project aiming to put our customers at the very center creating major values to them through a sustainable authentication system which will unlock future possibilities".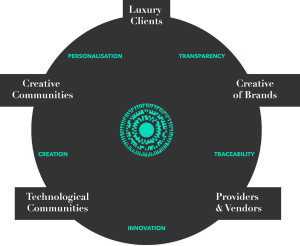 A very promising ABC partnership is one with Hennessy, the world's best-selling cognac founded in 1765. Laurent Boillot, CEO of Hennessy, commented: "The Aura Blockchain Consortium's vision to push the boundaries of technology to publish a blockchain platform that will ensure the full traceability of products, from the origin of materials to direct to consumer, aligns with our goal to establish Hennessy as not only a market-leading product but a securely and equitably produced product."
Today, the Aura Blockchain Consortium continues to evolve, now including in its platform brands such as Bulgari, Cartier, Hublot, Louis Vuitton, Hennessy, Prada, and its latest addition the OTB Group. It recently partnered up with Bain & Company, one of the market leaders in management consulting in luxury, guaranteeing a world-class onboarding as well as strategy development for luxury brands working with the Aura Blockchain Consortium.
Consumers are very curious to see the next big steps of this single global blockchain solution open to all luxury brands of all sectors around the world and the promising platform that provides consumers with additional information, services, transparency and raises the customer experience to a whole new level.
Eleni Anna Pappa (Bocconi LBSS) Mary Sarantitis (UCL FFFB)