If I asked you where you saw that bright yellow set of fluttery silk skirt and top, you would probably think of Emily in Paris, walking merrily around the streets of Paris, and not about danish designer Ganni. Honestly, I'll wear sackcloth for a minute and candidly admit I didn't even know about the brand before I watched the show. That's a little demonstration on how Netflix does unconsciously launch fashion trends.
Producers outside the big N have captivated the internet, too. Sam Levinson's show Euphoria has gone buzzy on TikTok for its original make-up trends featuring crystal teardrops, rhinestones and neon sculpted eyeliners. In the series, statement make-up reflects this century's public sentiment. Gen Z aims to break down the barriers of what is normal in social situations, to embrace a more fluid, self-expressing style. Euphoria is setting trends in fashion as well: Amina Muaddi laced-up heels scored a 125% rise in searches after Maddy, played by Alexa Demie, wore them on the show with a matching black cut-out dress.
However, TV and cinema have been influencing collections for a long time. History of fashion brings a lot of examples. Whether Ray Ban worn in Top Gun, the Fendi Baguette bag carried around by Carrie Bradshaw in Sex and the City or the colour-coordinated accessories and school uniforms worn by Serena and Blair in Gossip Girl – all these items are now considered iconic and fashionable.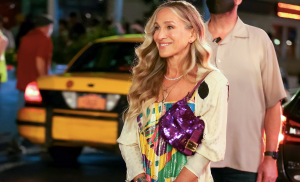 On the one hand, the growing influence of TV on the Haute sector is detectable in the fact that couturiers jump on the Netflix bandwagon: especially in the last year, costume designers have been an ever-flowing source of inspiration, for both luxury and fast fashion houses. Brands of the two segments seem to have chosen to follow different paths: top-end of the market companies prefer to be freely inspired and reconceptualise, while lower-end ones are deliberately producing fan-merch collections, as Pull&Bear has done with Sex Education. Even though companies are moving in a profitable direction, on the other hand, they are just realising how powerful it can be to set an advertising campaign through Netflix contents.
The most striking example of the Netflix effect is the recent popularity of corsets. Since the release of Bridgerton, data clearly shows a rise in the search for the word "corsets". In fact, shopping platform Lyst.com reports a 123% increase, and luxury lingerie brand La Perla confirms it is among the top searches on their website. All time designers have included reinterpretations of British Regency Era garments in their latest collections. For instance, Gucci proposed various pieces that put together their distinctive style and logo with Victorian influences. But as always, not only the high-end market has collected the trend, which is far from stopping: Also low-priced clothing websites like SHEIN and Bershka state a mean +325% escalation in corsets searches, while Instagram and TikTok are populated by girls explaining how to style them for every occasion.
However, the most interesting aspects of the Netflix effect don't come from shows where characters wear glamorous historically inspired wardrobes. Instead, the power of the streaming giant can be measured in the reaction of global trends to Squid Game, Netflix's most-watched show ever. For those who have not seen the show, the protagonists wear emerald green uniforms for most of the screen time. Perhaps it is partly due to quarantine and people getting used to wearing tracksuits every day, but it is undeniable that after the release of the series, "the searches for retro-inspired tracksuits, white slip-on sneakers, red boiler suits and numbered t-shirts have all spiked", as a spokeswoman at Lyst declared. In fact, Vans reported a bold 8000% growth in sales of white slip-ons, and a return of Juicy Couture-ish tracksuits is to be seen soon, emphasising the research for comfort as a prerequisite when buying clothes. This year's collections are full of loose-fitting robes, as it can be confirmed with a quick look to e.g., Miu Miu or Gucci websites. This is to be ascribed at least partly to Squid Game, which certainly has maximised the research for very comfortable and basic style clothing. Also, with the popularity of the show, Louis Vuitton signed female protagonist interpreter HoYeon Jung as a brand ambassador.
Therefore, why is TV so important that it can set trends? We people desire to be part of something bigger and exclusive, and we do so by dressing like those we look up to and admire, or those we feel familiar with. Designers do not set trends: the people do. TV plays a major role in this: it is estimated that people spend a maximum of five hours a day watching TV, the time reaching 8 to 9 hours during quarantine in 2020, and its influence cannot be ignored.
The fashion and the beauty industry marketing offices are conscious of the need to collect the feelings and interests of the masses, and they want to focus on millennials and gen-z since those are the potential future customers. They are also the ones more heavily into the Netflix world. Market analysts' and designers' cooperative work is to identify and to translate common feelings into wearable pieces of art. Hence, Netflix and streaming platforms are the perfect sources.
In conclusion, TV holds the cards of future fashion. It can bring the masses to base their choices of style on whether they identify in one character or hate another. It can make tracksuits fashionable or overturn common belief on dressing and style. Streaming platforms are unarguably one of the best sources that Maisons could opt for, and a way of making advertisement they still aren't embracing thoroughly in its potential. Such power has still to be bridled by fashion companies, and we expect more of the Netflix effect in the future, perhaps achieved by means of collaborations between producers and designers.
Photo Credits: @hbo @euphoria @emilyinparis @donni.davy