Queen Elizabeth II, Britain's longest reigning monarch, died a style icon influencing generations of fashion. During her 70-year reign she used her style to represent her history, her people and her country. Her Late Majesty's looks were symbols for her status, and a sign for continuity and conservatorism. With her constant use of bold colors and looks from british designers, to the evolution of her style throughout the second Elizabethen Era, it was a known fact that Her Late Majesty was an icon in fashion and used it to her advantage.
The Queen's death has definitely impacted the Fashion industry: Burberry has announced that its SS23 show, originally planned for Saturday, September 17, will be canceled "as a mark of respect". Fellow designer Raf Simons also canceled his LFW show out of respect. Many Influential British designers have been posting on social media in memoriam of the British icon.
Queen Elizabeth II was known for her signature silhouette, wearing iconic outfits for decades. The colorful coat and hat combination represented the last years of reign. This combo became an iconic uniform of hers that she wore during public events. This royal symbolism is very obvious- Her Late Majesty was rarely seen without a color-matched coat and wide-brimmed hat. Her style has not changed radically from her princess years and stands out by its elegance and regality. Her first important gowns were designed by Norman Hartnell, who created her wedding and coronation dresses, while her late years were marked by Angela Kelly's presence, her Personal Assistant and Senior Dresser since 2002.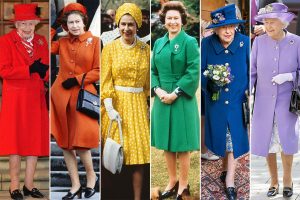 The simplistic idea that a woman of her prestige could wear whatever she wished was not the way Her Late Majesty conducted business. One of her former royal butlers stated in an interview Designing for Her Majesty meant conforming to the royal dress code. "There are not written-down laws but there are some traditional old etiquette-plus-protocol rules."  Apart from her sapient use of bright colors and her singular and timeless outfits, do we know what her true style was? When she was asked what her favorite color was, she responded with pink, even if she wore it just a couple of times that year. She was born to impersonate a role, giving up every preference and every opinion. Sophie Rys-Jones, Countess of Wessex, in a documentary titled "The Queen at 90", remarked that the Queen has to stand out for people to be able to say "I saw the Queen", so she chose to adhere rigidly to a bright-colored palette. Only when on vacation, at Balmoral in Scotland, she conceded herself to wear grayish cardigans, boots, Barbour and her beloved Hermès scarves, giving us a hint on what may have been her true style. 
Everything that Her Late Majesty wore had psychological significance from hat to toe, changing profusely depending on the event she was participating in, especially the color of the outfit. Being a public figure with political responsibility had a tremendous impact on how her outfits were analyzed by the press, giving significance to the smallest details. For this reason, Queen Elizabeth II and her team considered everything about the outfit down to the shade of color. However, the color of her outfit was not the only way she would make statements. Often Queen Elizabeth II would opt for British designers and use domestically sourced fabrics, as well, to show her representation of Great Britain and her people.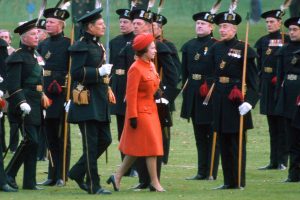 Queen Elizabeth II might not have had Wallis Simpson's Hollywoodian sense of style or the same attention to new fashion trends as many other fashion icons she met during her reigns such as Grace Kelly, or Jackie Kennedy, but this was not her goal to achieve. For 70 years she preferred continuity over variety, expressing herself and her role instead of copying others. Separating the idea of fashion as following trends and emphasizing the power a simple dress would have. In the late years of her journey, the Queen ended up representing the eternity of a tradition.
Many may ask what impact she has had on Princess of Wales Kate Middleton and Queen consort Camilla and the way they dress. It is known that the Crown jewels are shared between all the Royal family members as well as some vintage gowns the Queen has worn in her youth. For instance, Her Majesty's granddaughter, Beatrice of York, rearranged a Norman Hartnell's gown from the 1960s for her wedding. However, her approach to style has been particularly influential on the queen-to-be Kate, who has taken seriously Her Late Majesty's lesson: over the years her style evolved into a unique combination of colorful textiles and timeless compositions, just as her role requires.