The Development of alternative sustainable leathers 
The drivers behind the development of alternative sustainable leathers
Recent strides in the fashion realm have ushered in a diverse range of sustainable leather substitutes, garnering the attention and adoption of both burgeoning and well-established brands. These innovatively crafted materials are engineered to emulate the aesthetic and tactile allure of traditional leather, all while markedly diminishing environmental footprints. The fashion sector's escalating sustainability commitment guiding the exploration of environmentally considerate leather alternatives is mainly driven by the urgent need for environmental impact mitigation, reduced toxicity, waste minimization, ceased animal cruelty, and limited chemical pollution and deforestation. 
Traditional leather production has a significant environmental footprint from the water and land resources consumed for livestock rearing and pollution generated from the tanning process. Sustainable alternatives like those derived from cacti, pineapple leaves, and mycelium aim to mitigate these impacts. For instance, cacti-based leather uses 164,650% less water than animal leather and 190% less than synthetic polyurethane vegan leather. Similarly, apple scrap-based leather releases 85% less carbon dioxide. 
Moreover, companies have recognized the toxicity, wastefulness, and dangerous use of hazardous chemicals inherent in both cowhide and fossil field-based leather alternatives, spurring the drive towards safer and eco-friendly solutions. 
Furthermore, the luxury industry is actively seeking for more sustainable leather alternatives, like bio-leather, to help alleviate the detrimental effects of deforestation and chemical pollution associated with conventional leather production and tanning process. Finally, another driver steering the exploration of eco-conscious leather alternatives is the growing concern for animal cruelty in leather production, justified by the cruel treatment and substantial killing of animals to get their skins.
By addressing the environmental and ethical concerns linked with traditional leather, brands crafting sustainable leather alternatives present a more responsible choice for producers and notably for consumers, whose growing demand for sustainable solutions is increasingly apparent.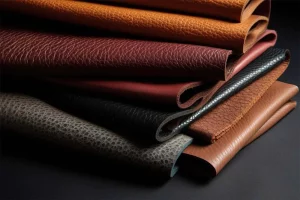 cc: @caseco
The different types of sustainable leather
Brands are intensifying their endeavors to explore diverse sustainable leather solutions. For the scope of this article, we will showcase a select few intriguing sustainable alternatives.
Firstly, plant-based alternatives made from plant waste are gaining traction among high-end manufacturers. Other compelling solutions include the "cacti leather" derived from cactus plant with promising water conservation attributes, the "apple leather" using apple pomace to repurpose food waste into a high-quality material, and the "pineapple leather" crafted from the cellulose fibers of pineapple leaves. Piñatex, in particular, is deemed sustainable as it repurposes waste from the pineapple industry, thereby eliminating the need for additional land, water, pesticides, or fertilizers and maintaining a composition free of harmful chemicals. Its versatile nature makes it a viable alternative for brands venturing into a multitude of product categories (vegan leather bags, wallets, shoes, and other accessories) and for consumers keen on making eco-conscious choices without compromising on style or functionality. Additionally, it is estimated that 16 pineapples (480 leaves) are needed to create 1 square meter of Piñatex material, showcasing a resource-efficient production process. Although not as common, some innovators are currently exploring the use of other plant fibers such as hemp, cork, or coconut to create other sustainable leather solutions. These materials have the advantage of being renewable materials with lower environmental impacts compared to traditional leather production. More specifically, coconut leather is a durable, compostable, water-resistant, moldable, and flexible material. This innovative solution uses coconut water, a byproduct that might otherwise go to waste. Cork leather can be seen as a torchbearer of sustainable fashion owing to its carbon sequestration capability, absorbing 3 to 5 times more carbon dioxide during the bark regrowth process.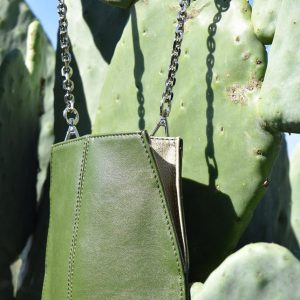 Cacti Leather – cc: @GMS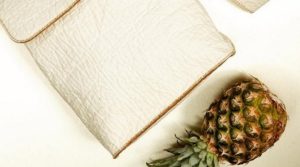 Pineapple leather – cc: @GlobalCitizen
In parallel, bio-based alternatives are increasingly being developed in collaboration with scientific institutions. One notable leather alternative gaining momentum nowadays is mycelium-based leather, which successfully retains the texture and aesthetic appeal inherent to traditional leather. These fabrics are created from the root structure of mushrooms, offering a biodegradable and plastic-free solution in contrast to traditional leather. This is also the case of "Sertex", a bio-based leather derived from corn (70%) and jointly developed with BioAmber and DuPont. This solution boasts superior scratch resistance and a softer texture rather than traditional leather. Another relevant example is Modern Meadow's new "Bio-Tex" vegan leather alternative using Bio Alloy technology. The latter is produced through a unique fermentation process involving natural ingredients such as sugar and yeast. It is known for its softer and luxurious texture akin to traditional leather. Finally, another notable leather innovation worth mentioning is "Tômtex", a unique leather alternative made from waste seafood shells and coffee grounds. Conceived by New York-based Vietnamese designer Uyen Tran, this bio-material exhibits durability while retaining a softness that accommodates both hand-stitching and machine-sewing.
Brands' adoption & successful campaigns
Well-established fashion luxury brands have started to integrate this type of innovative materials in their collections with benefits both to their brand image and the planet. This industry convergence towards sustainability is catalyzing the formation of numerous private partnerships, aimed at discovering innovative fabric solutions. In the scope of this article, we have chosen to highlight some notable examples of brands' adoption of sustainable leather alternatives.
A leading entity in the research of leather substitutes is Natural Fiber Welding (NFW), a firm dedicated to developing plastic-free performance materials. One of NFW's groundbreaking innovations is MIRUM®, a leather-like fabric crafted using all-natural inputs derived from either virgin or recycled plant matter, along with rubber and cork sourced from FSC-certified forests. NFW has collaborated with illustrious luxury fashion brands such as Pangaia, Stella McCartney, Camper, and Ralph Lauren. First, the partnership between NFW and Pangaia led to the creation of the Air Gilet, the world's first ready-to-wear garment fashioned from MIRUM®. The outer shell of the Air Gilet is luxuriously soft, mimicking the drape of animal leather, yet it is 100% biobased and devoid of plastic. The inner wadding is filled with FLWRDWN™, a sustainable substitute for animal feathers. Second, MIRUM® was also supplied by NFW to Stella McCartney, which utilized it in the design of her bestselling Falabella bag. Finally, the versatile nature of MIRUM® has facilitated its application in the manufacturing of luxury footwear. MIRUM® innovative fabric was also leveraged by Ralph Lauren in the production of its gorpcore-styled POLO MIRUM® sneaker boot. This limited selection of private partnerships serves to exemplify the potential of MIRUM® in revolutionizing sustainable fashion.
The Air Gilet by Pangaia – cc: @pangaia
Another interesting example of a sustainable leather alternative could be the work of MycoWork, which has been adopted by multiple fashion luxury brands like Hermes, Heron Preston, and Ligne Roset. MycoWork is known for its Sylvania, a leathery fabric created from fungus. The latter collaborated with Hermes in 2021 for the reinvention of Hermes' iconic Victoria bag in fine mycelium. Heron Preston also worked in 2023 with Mycro for the creation of a range of designs to be commercialized in 2024, made out of a mycelium-based leather alternative called Reishi™. Furthermore, MycoWork's leather solution more recently found applications beyond the fashion industry, and more precisely within the furniture sector, as highlighted in one advertising campaign featuring Ligne Roset.
Shifting our focus to single houses, Stella McCartney is one of the first comers and most active in this field, bringing advocacy to sustainability and cruelty-free fashion. In 2013, the English designer started to spearmint on bags and shoes Alter Nappa leather, a combination of polyester and waterborne polyurethane. This innovation allowed a significant decrease in the consumption of both energy and water. Later on, in 2018, Stella McCartney collaborated with the biotechnology company Bolt Threads and introduced its iconic Falabella bag in Mylo. Mylo is a vegan leather made from mycelium that feels and looks exactly like animal leather. Mylo has not only been used for its iconic bag, but has also been used for the creation of fashion clothing collections in 2021. Finally, Bolt Threads and Stella McCartney also partnered with Adidas for the design of Mylo Stan Smith in 2018 and more recently for the eco-friendly restyling of other silhouettes like Sambas.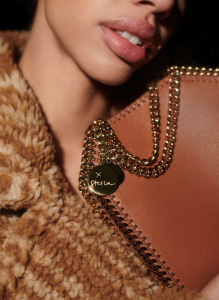 Falabella MIRUM® Tote Bag by Stella McCartney – cc: @stellamccartney
Veja is widely recognized for its dedication to sustainability, especially in the realm of footwear. Beginning in 2006, the brand embarked on utilizing and experimenting with vegetable-tanned leather, which is real leather treated with vegetable tannins. A significant advancement occurred in 2018 when Veja introduced corn leather as a substitute for traditional leather. As a testament to their evolving sustainable practices, 20 out of 81 styles of Veja's sneakers are today classified as vegan.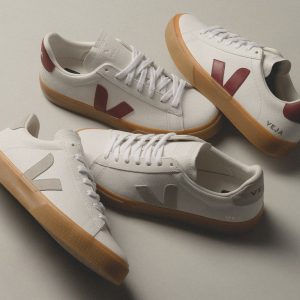 Veja shoes – cc: @Legrand

The development and adoption of both bio-based and plant-based leather solutions exemplify the burgeoning interests and advancement in sustainable leather alternatives, which are poised to play a significant role in steering the fashion industry towards a more sustainable and ethical path. However, further collaborative efforts between the fashion industry, scientific institutions, and start-ups are needed to further accelerate fabric innovation through technological advancements and the development of more diverse, high-quality, cost-effective solutions.
The future outlook for sustainable leather alternatives appears promising due to a confluence of environmental, ethical, regulatory, and consumer demand-driven factors. The fashion industry is likely to continue its trajectory towards sustainability with leather alternatives playing a crucial role in meeting growing consumer demand and aligning with global sustainability standards. The versatility and broad appeal of these materials could be harnessed for a further extension of applications beyond the luxury fashion industry. It is conceivable that sustainable leather alternatives might find innovative use in upholstering home furniture or electronic accessories, rethinking automotive interior elements and wheel covers, or crafting greener packaging solutions.