Jil Sander, S.p.A., stands as a prominent force in the realm of luxury fashion, with its origins tracing back to the vibrant heart of Hamburg, Germany, in the year 1968. Today, the brand has found its home amid the elegant setting of Milan, Italy. In an era where minimalist aesthetics and distinctive character have emerged as compelling fashion trends, the influence of Jil Sander has experienced a meteoric rise in recent years, imprinting an enduring legacy on the canvas of minimalist fashion.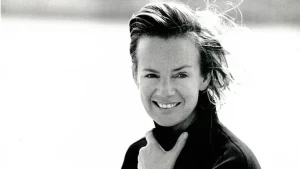 Jil Sander (Jil Sander, 1991. Courtesy: Marie Claire Germany; photograph: © Peter Lindbergh) 
 Behind this iconic brand stands a remarkable woman, Jilliane Sander. She kick-started her career as a fashion editor at the renowned German magazine, Petra. Unbeknownst to her, this was only the beginning of her remarkable journey into the world of fashion. At the age of 24, in 1967, she ventured into uncharted territory by opening her first boutique in Hamburg. Surprisingly, her initial ambition was not to become a fashion designer, but her passion for perfecting clothing soon led her down that path. Jil Sander's inaugural fashion show didn't grace the runways of Paris until 1975, marking the official birth of the brand. What followed was a journey of relentless expansion, with the brand going public on the Frankfurt Stock Exchange as early as 1989.
 However, the brand's journey has not been without its fair share of turbulence. In 1999, the Prada Group acquired a significant 75% stake in the company, prompting Sander's resignation. Her return in 2003 was brief, and she departed again in 2004, largely due to conflicts with Prada's then-CEO, Patrizio Bertelli. These disputes reached a point where Sander was unable to work for her eponymous brand, therefore Raf Simons entered the company in 2005, a young and gifted creative director who revived the brand's fortunes. With Simons at the helm, Jil Sander experienced a resurgence, exploring vibrant colors and newfound volumes, ushering in a new era.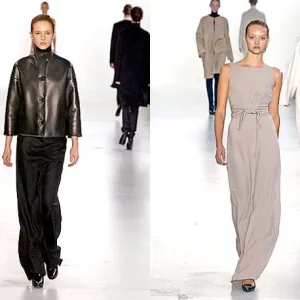 Raf Simons era (Fall/Winter 2006 runway photo) – cc: @thecut
 In a triumphant comeback, the minimalist maestro, Jil Sander, returned to her namesake house in February 2012, taking the reins from Raf Simons, who had steered the creative direction since 2005. However, after merely three seasons, she made her third exit from the brand, citing "personal reasons," amidst whispers of discord with Prada. Her departure paved the way for Italian designer Rudolf Paglialunga to step in as creative director. However, Paglialunga's reign was short-lived, and the torch was passed on to the married duo, Luke and Lucie Meier, in April 2017. Armed with previous experiences at luxury fashion powerhouses like Balenciaga, Louis Vuitton, Dior, and Raf Simons, the couple embarked on their maiden joint design venture. They introduced Jil Sander+, a collection centered around "life beyond the city," which was unveiled at the Milan Furniture Fair in 2019.
 A tantalizing question that lingers is what might have been had the Prada Group not acquired Jil Sander. Would the brand be different today, and would Sander still hold the creative reins? The brand stands as one of the most intriguing "what ifs" in the fashion industry, and while these questions may never find answers, one thing is clear: Jil Sander has made an enduring impact on minimalist fashion. The future promises to be just as exciting as the past.
Lucie and Luke Meier era (Photographed by Corey Tenold, Vogue 2021) – cc: @vogue
Sources: 
The New York Times (2004). "Yet Again, Jil Sander and Prada Part Ways." Available at: https://www.nytimes.com/2004/11/17/business/yet-again-jil-sander-and-prada-part-ways.html
 Another Magazine (2017). "When Raf Simons Brought Colour & Volume to Jil Sander S/S11." Available at:https://www.anothermag.com/fashion-beauty/10359/when-raf-simons-brought-colour-volume-to-jil-sander-ss11
 Frieze (2018). "Jil Sander: The Queen of Less." Available at: https://www.frieze.com/article/queen-less
 Vogue (2021). "Jil Sander Gets a New Owner and a New Opportunity for Designers Luke and Lucie Meier." Available at: https://www.vogue.com/article/jil-sander-only-the-brave
 The Cut (2012). "Raf Simons at Jil Sander: A Retrospective." Available at: https://www.thecut.com/2012/02/raf-simons-at-jil-sander-a-retrospective.html
 Financial Times (2019). "Jil Sander, a love story" Available at: https://www.ft.com/content/aabf6864-40fc-11e9-9499-290979c9807a