John Galliano is a British fashion designer known for his fearless approach to design and his ability to push the boundaries of what is considered possible in the world of haute couture. Galliano's interest in fashion was sparked by the flamboyant costumes of historical films and eclectic styles of the punk movement. After graduating from Central Saint Martins, Galliano successfully launched his own label, which gained popularity thanks to its avant-garde designs and the theatrical runway shows that Galliano staged. Galliano's big break came in 1995 when he was appointed as the Creative Director of Givenchy.
During his time at Givenchy, Galliano continued to challenge traditional fashion norms with his innovative designs, incorporating a unique blend of historical references and futuristic elements. One of Galliano's most memorable collections was his Spring/Summer 1995 collection, "Hobo Chic." The collection featured a mix of high and low fashion, with models wearing tattered, oversized garments layered over more refined pieces. The collection was a commentary on the state of fashion at the time and was seen as a rebellious statement against the industry's obsession with perfection and luxury.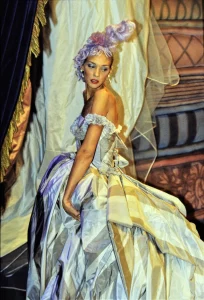 In 1996, John Galliano was appointed as Creative Director of Christian Dior, where he remained until 2011, cementing his reputation as one of the most iconic and influential designers of his generation. With a career spanning several decades, Galliano has consistently defied expectations, blending tradition with cutting-edge technologies to create designs that are both breathtakingly beautiful and thoughtful. Drawing inspiration from a wide range of sources, from history and culture to art and nature, Galliano's designs blend a sense of mystery, chaos, and intrigue, capturing the essence of what it means to be truly innovative in the world of fashion.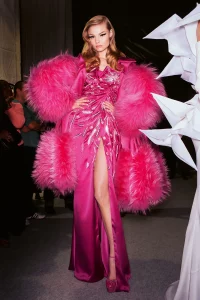 Galliano's designs often blur the lines between fashion and art, and he is known for his willingness to push boundaries and challenge conventional ideas about beauty and femininity. His designs are often characterised by their dramatic silhouettes, bold colours, and ornate embellishments, such as intricate beading, embroidery, and applique. Galliano is also known for his use of unconventional materials, such as feathers, lace, and fur, which he incorporates into his designs in unexpected and innovative ways.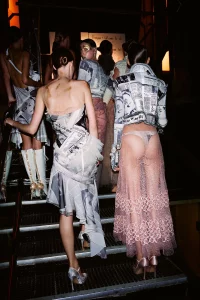 In addition to his designs, Galliano is known for his theatrical runway shows, which are often elaborate, immersive productions that blur the lines between fashion and performance art. Galliano's shows are known for their attention to detail, with every aspect carefully curated to create a cohesive, immersive experience for the audience. From the music to the lighting to the set design, every element of Galliano's shows is designed to transport the viewer into a world of fantasy and glamour.
In 2011, Galliano's career was rocked by a scandal which led to his arrest in Paris due to anti-Semitic remarks in a bar. The incident led to his immediate dismissal from both Dior and his own eponymous label. The news sent shockwaves through the fashion industry, and Galliano was scrutinised under the public eye as a result. He issued a public apology for his behaviour and sought help for his struggles with alcoholism. Galliano underwent a period of rehabilitation and sensitivity training, but the damage had already been done to his career and reputation. Galliano struggled to re-enter the fashion industry following this controversy, but in 2014, he was appointed creative director of Maison Margiela.
During his time at Margiela, Galliano has had a positive impact on the brand and the fashion industry, marked by a new focus on sustainability and ethical fashion practices. He has implemented eco-friendly initiatives and worked to reduce the environmental impact of the fashion industry, reflecting a growing trend towards more responsible fashion practices. Despite the controversy surrounding his past, Galliano's undeniable talent and his bold and daring designs continue to influence the fashion world.