Pre-loved and rental trends
The expansion of clothing rental services
Over the last few years a new way of more conscious and sustainable consumption of fashion items has appeared with clothing rental services. This alternative approach of buying and managing our wardrobes gives the possibility to try the latest trends while minimising the impact on overconsumption and the fast fashion cycle. Rental fashion could be an answer to the environmental challenges implemented by the fashion industry which is responsible for around 10% of global carbon emissions.
How does it work? Each rental company has its specificities but in general it allows the consumer to rent one or several items for an event or for a few days, that after need to be returned at the end, usually in a bag provided by the company directly. This rising industry is expected to reach a value of 2.08 billion dollars by 2025.
Among the leaders of this expanding market are the US-based Rent the Runway, specialised in designer clothing rentals, and Haverdash, aimed for consumers on a budget. Both companies offer memberships allowing consumers to, every month, rent an unlimited number of clothes for as long as wanted. There is also the example of the French rental company "Une robe un soir" which offers an alternative to the purchase for special occasions such as weddings, birthdays or galas, during which very often the dresses are worn only once.
Critics have however raised awareness on issues clothing rental services also implied, including large footprints due to shipping transportation as well as the use of harmful chemicals in the dry cleaning of items. To tackle this concerns, companies such as Rent the Runway are adopting more environmentally friendly policies by using green cleaning methods and dedicating to recycling.
"Une robe un soir"  cc: @unerobeunsoir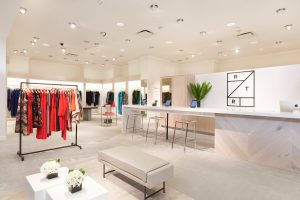 "Rent the runway" cc: @renttherunway
"Pre-loved" luxury goods, a booming market
More economical and ecological, the second-hand market has also been booming for several years, especially in the luxury segment which had abandoned it, considering it too degrading for luxury fashion maisons' image. But today it is a promising market. In 2021, it represented 33 billion euros and its growth is fourth times faster than the traditional market. The growth of the "pre- loved" market is not only due to a higher demand from the younger generation, more sensitive to ecological awareness and impacts of their consumption habits. It also reflects a strong increase in the supply of products from a growing number of companies in this segment of the luxury market.
Thanks to the digitalisation of the second-hand market, three major companies have established themselves as key players in this market: Monogram Paris, Vestiaire Collective and Collector Square. On these online resale platforms, vintage is on the rise and many customers are attracted by this economic alternative that combines ethics and consumption.
This second-hand dynamism is now attracting luxury boutiques to follow the trend. For example, in Paris, Printemps opened an entire pop up store floor during a few months called "7ème ciel", entirely dedicated to second-hand luxury goods, with a section featuring pieces signed by the greatest designers.
Extending the lifetime of luxury products is a powerful way for brands, fashion platforms, and investors to now show their commitment to sustainability. Moreover, second hand sales offer an additional distribution channel that's increasing its market share within the larger luxury ecosystem.
Certain luxury houses have realised the opportunity to invest in the market. For instance, Gucci just launched a concept store and a digital platform "Gucci Vault" partially dedicated to Gucci's vintage pieces. Some of them have even been customised by Alessandro Michele, Gucci's creative director, in a spirit of adapting the past to the present and to create scarcity.
"Gucci Vault" cc: @guccivault
The future geography of luxury fashion
Luxury fashion worldwide: overview
Covid-19 has accelerated significant changes in the global luxury fashion sector for the future years, shaping a unique luxury map. 
In the post-pandemic era, recovery has been uneven across markets and nations. Stronger economies have been advantaged: according to "The State of Fashion 2022" report (McKinsey and Company and The Business of Fashion), China and Americas fully recovered and surpassed 2019 levels by 2021, followed by Europe.
However, while the luxury sector will continue to grow worldwide, some regions will be advantaged over others, resulting in more unevenness across the market.
Asia-Pacific
Asia-Pacific is now the largest consumer of luxury fashion goods in the world. Fashion brands are relocating investments from mature markets to the more profitable Asian region, especially for local retail. While in recent years Asian consumers have made the majority of luxury purchases in European cities, as covid restrictions have reduced travel flows they are discovering local spending.
Asia's luxury market share (China and Japan included) will reach less than half of the global market by 2025, and the Americas and Europe will decrease to 24% (Bain).
China, Japan, and South Korea are considered critical markets for retail investments: luxury fashion brands are planning to open new stores in the region. 
One of the most interesting emerging markets in the region is Vietnam, whose growing middle class and economy will contribute to shaping the future of the luxury fashion world. Similarly, Thailand's government is venturing into Thai fashion houses as contributors to the country's economic development. This year, Thailand Fashion Week has displayed haute couture designers and increased its world popularity.
"Bangkok Fashion Week, September 24, 2022 – Xinhua News"
China
China's luxury fashion market is booming: prices are surging and new restrictions have increased local demand for luxury goods. Today, China is the main priority for big European luxury groups.
In 2019, Chinese consumers shared 33% of luxury sales, but the percentage will grow up to 43% in 2025 (Bain). Chinese luxury fashion consumers surged compared to the pre-pandemic era, pursuing China's growing economy, and the middle class is expected to increase its extent, enlarging the potential audience for luxury goods. Yet, growing inequalities and political decisions may push the middle and upper-middle class to opt for more discreet items. 
Middle East and Russia
The Middle East is still a small part of the fashion luxury world, but markets such as UAE and Saudi Arabia are fast growing as never before. Dubai and Abu Dhabi are increasing their attractiveness to consumers and tourists with luxury malls and retailers.
On the other side, the luxury Russian market is suffering from sanctions as Western luxury brands quit the country. 
Europe and Americas
Europe is no longer the largest consumer of luxury fashion goods and brands are continuously searching for new end markets outside the region.
In addition, Eastern consumers will not be more likely to go shopping in Europe: Milan, Paris, and London will no longer retain their place as geographical centers of luxury tourism. For instance, Europe lowered its growth and recovery from the pandemic due to the lack of Chinese and Russian tourists, only relying on American and Middle-Eastern consumers.
Western fashion brands are now facing the issue: as said, many are planning to extend their e-commerce to local centers in the Asian and Middle Eastern regions.
However, the most important luxury groups still come from Europe (LVMH, Kering, Prada), and big conglomerates lie to powerful heritage, alluring history, and iconic geographical locations (France, Italy, Switzerland,…). Few brands outside Europe or the US can claim the same high-end success today, but they are likely to emerge.
Even the American fashion luxury market drives its growing demand, especially towards European brands. 
America and China are the world centers for the fashion luxury market, overperforming compared to the pre-pandemic era. Their power relies on the growing middle and upper-middle class with high budgets to spend in the sector, a strong economy, and the shift to domestic sales.
Client base
Today, the luxury industry is divided in two clientele bases: "Millennials" and "Gen Z". Representing major shares of the sector's sales, their demands are varying, constituting a new challenge for luxury: How to please both? How to adapt to this new client base? 
Experiential luxury is getting ahead of possession: new needs for emotional or value experiences are emerging from the client base. 
Additionally, new expectations are set by new generations: a brand must express its sentiments on social and environmental topics, in a sincerely engaged way. Fast fashion's ecological consequences have spread awareness on this matter. Indeed, to last and to be successful in the coming years, luxury brands will need to be transparent on those sensitive topics. From fabric waste to protecting animal species to delivery pollution. The traceability of products is at the heart of the question: information on material sourcing and on the product's life – from sale to resale – will be necessary in order to maintain a brand's reputation. As seen is our previous article related to traceability in the luxury industry "NFT and Fashion"
In the same situation of "in-between", we can also get a look at online sales that will increase in such a way that they should account for at least 25% of sales by 2025. 
These generations have a rising buyer power, switching to omnichannel and technology rather than traditional and physical shopping. Thanks to social media, the rise of influencers, tv-reality stars, entrepreneurship…. 
A greater use of artificial intelligence and big data is helping companies modeling their engagement methods to reach clientele in an increasingly personalised manner. Access to new digitised and personalised services is key to creating strategic loyalty: facing a constantly evolving client and trends, luxury companies need to go beyond client experience to persuade them. Every tool – social media, physical shopping, e-commerce, private events – is now and will even be more often put in place to optimize loyalty. 
Going beyond generational shifts, the question of social class is arising. "HENRYS" (High Earners Not Rich Yet) represent a more and more attractive client base for the sector, seeing as both have perspectives of development, reinforcing their potential long-term relationship. These co-actors of the provided experiences are connected to technology through a precise choice of the materials used in the products they buy. Innovation remains key to maintaining an ethical and eco-conscious product, that Millenials keep track of by searching for recycled materials. Consequently, the luxury industry is entering a phase of "slow luxury": clients may be consuming less, but better!
New technologies and Customer Experience
New technologies are there for fashion houses to be exploited to enhance customer experience and amplify the offer. Innovation can and should be used by firms in the apparel industry not only to fight against customer frustration but to decrease costs and increase sustainability. 
One of the most promising options that is gaining popularity within the market is the implementation of blockchain technology.  Blockchain technology drastically challenges the current business models through an improvement of customer experience, fostering interaction with the brand, and guaranteeing transparency, traceability, trust, quality and security. At the same time speed up and simplify the purchasing process. All of this has a positive outcome on companies, which are therefore able to increase customer loyalty. 
Together with blockchain, artificial intelligence will reshape fashion houses' approach to product design, development, and production. The real shift is going to be a demand-driven supply chain, where brands will be able to produce and design forecasting customers' needs and desires, anticipating trends. 
Furthermore, development and innovation are transforming the textile industry in an unprecedented manner. Startups are focused on finding a new way to produce raw materials with more sustainable and innovative business practices. What stands out at the moment are: lab-grown leather (without the need for any animal use) and photochromic inks (which adapt to different wavelengths of UV rays). Together with these, new technologies in colouring processes make it possible to increase customer experience, by bringing customisation to new levels.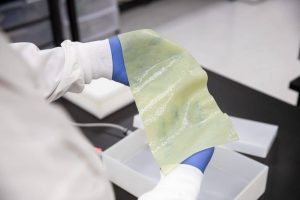 "Lab-grown leather"
An example of innovation was presented by Coperni with a spray-on fabric dress, developed with the contribution of Dr Manel Torres. This tech operates so that once sprayed, it dries up instantly and becomes a fabric layer, this is done through the use of aerosol tech sprayers.  "It can be used to make innovative clothes that can be washed, re-worn and even integrated with diagnostic devices that can monitor the health of the wearer," says Coperni.