Yves Saint Laurent was a genius designer whose work influenced fashion from the 1960s to the present days with its timeless sense of style and its iconic collections that have revolutionized the women's fashion world.  
BIOGRAPHY:
Yves Henri Donat Matthieu Saint Laurent was born in Oran, Algeria in 1936, into a relatively well-off family. His childhood was very troubled due to his gentleness, timidity and homosexual behavior that made him a prey to bullying. These events led him to become a nervous and sick child. Luckily, he found solace in the fashion world, he went from making paper dolls to dressing his mother and sisters in his teen years.
When, at the age of 17, his mother brought him to Paris for the first time to meet Michael de Brunhoff, the editor of French Vogue, he found himself in a whole new world. One year later Saint Laurent moved to Paris to study at the École de la Chambre Syndicale de la haute couture, where his works were getting attention from many designers. In the meanwhile, Burnhoff, who remained very impressed by Laurent's drawings and sketches, introduced him to Christian Dior, already a giant in the fashion industry, who took him on as an assistant. Under Dior's wing he continued to enrich his knowledge and style and to gain more notoriety.
After Cristian Dior passed away in 1957, Saint Laurent, at the age of 21, took his place as head designer of Dior. His first collection was a great success, as it perfectly appealed to the maison's aesthetic and spirit.
In 1960 Saint Laurent was drafted for the Algerian war, as he was sent home for his depression, he discovered he had been fired from Dior and replaced by Marc Bohan. This choice was probably dictated by his collections that were getting too young for the maison's customers and by his unstable mental health probably gotten by the fame.
The money he gained by suing Dior allowed him, and his lover, Pierre Berge, to create his independent design house, YSL, in 1961. With the rise of pop culture in those years, the fresh and trendy style brought by Saint Laurent was a breath of fresh air for the fashion world. His collections revolutionized women's fashion culture with iconic designs that still inspire and influence today's stylists and trends. During the 1960s and 1970s he started facing alcohol and cocaine addiction because of his dandy lifestyle and mental problems but with limited impact on his work life.
In 1966 Saint Laurent totally transformed the idea of ready-to-wear by opening the first Saint Laurent Rive Gauche shop in Paris at 21 rue de Tournon in Paris's 6e arrondissement. Instead of considering the ready-to-wear as a lower priced version of the haute couture he created two different collections that he designed with much eye. The line was a true success and, in a few years, opened other stores in New York and London and extended the collection to menswear. 
By the 1980s he was an absolute icon; he became the first designer to have a solo exhibition held by The Metropolitan Museum in New York City on his work during his lifetime. Through his life, other than his longtime partner Pierre Bergè, he had many models and actress that inspired him, to mention a few, Victoire Doutrelau, Paloma Picasso (daughter of Pablo Picasso), Betty Catroux, Catherine Deneuve, Loulou de la Falaise and many other. Some of these girls worked with him, others were just friends, but he considered them as muses and models for his works.  
During the 1990s Saint Laurent designs were rediscovered by a fashion elite tired of the dominant style of the time. By the end of the decade Saint Laurent and Berge sold the company. In 2001 Saint Laurent took part in his final show before retiring in Marrakech. In 2001 and 2007 he was awarded the rank of Commander and then Grand officier de la Légion d'honneur by the two French presidents of the years.
Yves Saint Laurent passed away in Paris on June 1, 2008, of brain cancer.
Many movies, books and museums collect traces of his forever lasting story and works.
ICONIC SIGNATURES:
In 1965 the maison was only four years old but its Autumn-Winter collection became a masterpiece thanks to one piece of appeal, the Mondrian Dress. Saint Laurent appropriated the famous painter's work by transporting it in a tree dimension dress, as powerful as the original painting. This decision explains his desire to create a dress made of colors and not only lines. The simple look of the dress hides a meticulous work of technique invisible to the naked eye.
Only one year after the Mondrian dress, YSL featured on the Autumn-Winter collection, of his most iconic and timeless pieces that is the women's tuxedo. This garment was originally designed to be worn by men in order to protect one's clothing from the smell of cigars in a smoking room. Saint Laurent's tuxedo was an exact copy of the men's tuxedo only readapted to the female body.
Saint Laurent's tuxedo was too far ahead for the time and was initially snubbed by the haute couture customers, on the other hand the Rive Gauche version (YSL collection with a younger clientele) was a success and made it a classic.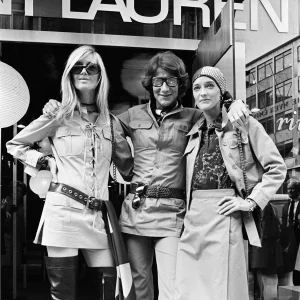 Another iconic clothing item designed by Saint Laurent in 1967 and presented on the runaway the following year is the Safari Jacket. Once again, the designer borrowed a piece from male dress code and readapted it to revolutionize women's fashion. He was probably inspired by the outfits of the occidental men in Africa, its cotton fabric made it fresh and perfect for summer. In 1969 the safari jacket was also available on the Rive Gauche stores, making it a success.