Gucci
One of the most anticipated events of this Milan Fashion Week was the debut of Sabato Di Sarno as Gucci's new creative director. A name not familiar to all but that hides previous collaborations with Valentino, Prada, and Dolce & Gabbana. Di Sarno had a specific goal for this collection, to make us fall in love with Gucci again, indeed the slogan "Ancora" (again in Italian) invaded the city of Milan and the headquarters of the firm.
The theme color for this collection, seen in the runaway as well as in advertisements, is a deep tone of red, apparently referring to an old Tom Ford blazer owned by the Italian designer.
Eight months after his appointment, De Sarno finally exposed a new Gucci that breaks the eccentric and maximalist style brought in by Alessandro Michele, delighting us with a more essential and contemporary air.
 The SS24 Gucci girl wears chic short shorts and miniskirts with kitten heels, high-platform loafers, white sneakers, and oversized hoodies. Unfailing is once again the timeless Jackie, also presented in a long-handled variant and the iconic bamboo bag.
Jewelry accessories are designed in a chunky gold style applied to earrings, bracelets, and necklaces. 
Nightlife is not optional and so are crystal colorful shoulderless dresses with matched handbags perfect for a soirée. For the following morning, Gucci suggests a maxi coat to layer with no shame the night dress.
Leather and vinyl are the main materials employed for this collection, used on skirts, blazers, and tops. Monogram is additionally presented on embossed leather with regard to quiet luxury.
 Despite the debated decision of deleting all the previous posts from Gucci's social account, Sabato has eventually proved us his admiration for the brand's heritage with a show that certainly reminded us of Tom Ford's era with garments designed both for a sensual but never rude girl and a fine lady. The show, overall described as a very minimalist and wearable collection, ended with the song Ancora by the legendary Italian singer Mina, there to bear in our minds the spirit of the conservatory revolution wanted by Di Sarno.
Sabato De Sarno's debut as Gucci art director – cc: @larepubblica
Tom Ford 
Tom Ford follows Gucci's lead and leaves space for newcomers, presenting us with the first women's collection designed by Peter Hawkings. Peter started working alongside Tom Ford in Gucci twenty-five years ago as assistant designer for menswear and has recently been nominated Vice President for Tom Ford Menswear.
The collection is inspired by Donyale Luna, a famous model from the '60s and '70s muse for many well-known artists like Andy Warhol, an icon of style and seduction.
Ford's women are confident and sensual, wearing tailored suits, blazers with shorts and minidresses but without renouncing to long ones.  
The sartorial component is key in this runaway featured in precious fabrics finished with golden thread. Tops and shirts are worn to highlight cleavages, pants, and blazers that look like they are sewn onto the models, falling perfectly straight without any folds while dresses are tight and ornate with drapes. Crocodile textures were also used on any tone of leather for skirts, coats, and shoes.
Iconic elements like the maxi oval signature belt, laced sandals, and long sautoir necklaces were reproposed by Peter.
 Tom Ford's pupil shows us his archive knowledge, reviving the great collections from the 90s of the American designer without really revolutionizing the brand style and image as some may expected.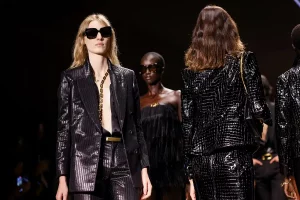 The first women's collection designed by Peter Hawkings – cc: @prothomalo
The Attico 
When a fashion brand takes its first steps onto the runway, it's more than just a show; it's a statement, a declaration of identity. And for Milan-based luxury label "The Attico," their first-ever runway show during Milan Fashion Week was nothing short of iconic.
Founded in 2016 by the dynamic duo Gilda Ambrosio and Giorgia Tordini, "The Attico" quickly rose to prominence, capturing the hearts of style connoisseurs and garnering admiration from icons like Rihanna. However, despite the brand's cult following, it had never made it into the world of runway shows.
The decision to unveil their Spring 2024 collection on the streets of Milan's Arco della Pace neighborhood was a strategic departure from convention. This bold move transformed a normal Milanese street into a pulsating catwalk, and it wasn't just fashion insiders and influencers who took notice. The front row was a who's who of the fashion world, featuring luminaries such as Sabato de Sarno, the new creative director of Gucci, Maximilian Davis of Ferragamo, Jerry Lorenzo of Fear of God, Remo Ruffini, CEO of Moncler, and Dean and Dan Caten of DSquared, among others.
The collection itself was a testament to "The Attico's" ability to blend high-end glamour with urban utility. The runway showcased 42 looks, featuring sheer fabrics, mirrored sequins, oversized utility jackets, and cargo pants. From oversized grey trench coats paired with silver pants to black blazers worn over feather-dotted tights, "The Attico" pushed the boundaries of "day-to-night" dressing. 
In the fashion world where runway shows are significant investments, "The Attico" made it clear that they are more confident than ever in their ability to transform their cult status into mainstream appeal. 
"The Attico's" debut show at Milan Fashion Week was more than just a runway event; it was a celebration of fearless fashion, individuality, and the power of transformation. It marked a new chapter in the brand's journey, one that promises to captivate the world of fashion for years to come.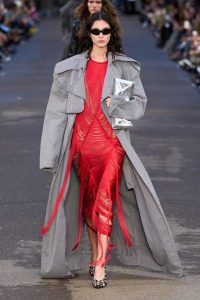 The Attico's fashion show on the streets of Milan – cc: @theimpression
Prada
For fall 2023, Prada's runway was an exhibition of sartorial innovation, brought to life by the creative duo of Raf Simons and Miuccia Prada. The collection explored the concept of duality, featuring pairs of looks with subtle differences, a theme continued from their spring 2022 collection. Prada's ability to reimagine classic silhouettes was on full display, especially with the introduction of slim, ankle-length pleated pants that harkened back to a bygone era in fashion while offering a fresh silhouette in today's context. The brand also delved into uniform dressing, blurring the lines between everyday and special occasion wear, even transforming bridal gowns into mini and midi skirts. Prada's Fall 2023 collection is a testament to its unique approach to beauty and fashion, achieving a delicate balance between tradition and modernity. Miuccia Prada and Raf Simons have once again redefined the boundaries of fashion, showcasing their distinctive Prada style.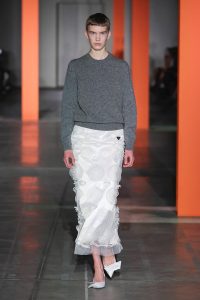 Prada's bridal skirts transformation – cc: @womensweardaily
Dolce & Gabbana
Dolce & Gabbana's Fall 2023 collection took inspiration from the boudoir, resulting in a captivating showcase of black, white, gold, and lipstick-red garments. Divided into four distinct sections, the collection featured intimate-inspired pieces in black, showcasing both feminine prowess and masculine tailoring. The use of gold brought high-octane disco-style fabrics and maximalist embellishments, while winter white was employed to renew outerwear options, particularly in faux fur styles. The color red, in various textures, added versatility to the collection. While Dolce & Gabbana has always been known for sensuality, this collection hinted at a new dimension of natural sensuality, emphasizing the power and control of women. The designers successfully blended elements of fashion nostalgia with modern sensibilities, creating a collection that will undoubtedly make its mark on social media.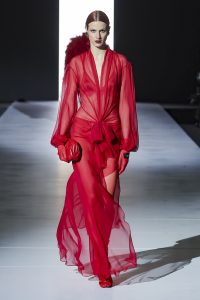 The use of the red color in D&G's collection – cc: @flauntmagazine
Armani
Emporio Armani's Fall/Winter 2023 collection stood out with its unexpected theme of optimism, playfulness, and vibrancy. Drawing inspiration from Elizabethan theater culture, Giorgio Armani created a collection that seamlessly merged theatrical costume elements with everyday wearability. Models showcased trousers, asymmetrically buttoned silk jacquard jackets, and sharply tailored suits, along with berets and bowler hats that added a touch of chic. Eveningwear was a focus, with Armani masterfully combining volumes and textures to achieve an effortless elegance in after-dark pieces. This collection not only paid homage to Guy Bourdin's bold imagery but also celebrated Giorgio Armani's enduring legacy, offering a fresh and captivating take on fashion that continues to resonate with a global audience.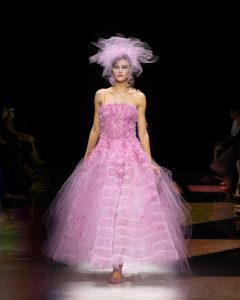 Armani's Elizabethan dress – cc: @vmagazine
Events
The city of Milan was set for many installations and events during the fashion week.
Worth a mention are the Gucci Ancora and Loro Piana popups that thanks to the social media echo attracted a lot of people not only from the fashion industry.
Diesel this year not only continues its inclusive policy and makes a limited number of tickets for its show available to everybody but also organizes a film festival in a historical cinema in Milan, projecting iconic films that reflect the spirit of its campaign.
It ended with Moncler who presented its genius collection in collaboration with Pharrell in the majestic setting of the Portrait Hotel patio with an exclusive event followed by a performance.