We already know that this month is certainly going to be remembered for the magic of the Oscars, held the night of the 12th of march, with their 95th edition.
Certainly, it will not be forgotten due to a major change: the red carpet is not red anymore. Difficult to believe, I know, yet the organizers of the 2023 academy awards took a different path and broke away from the iconic tradition of the passionate red. Now it should be called the "champagne carpet", due to its new nuance of white, greeting the celebrities at their arrival (Probably champagne is in the colour palette of everyone!).
The creative team said, "We chose this beautiful sienna, saffron colour that evokes the sunset, because this is the sunset before the golden hour". Golden, we should say, like the very own Oscars.
Let's now move to the hot topic of the night: jewels and dresses.
Michelle Yeoh, Oscar winner for best actress in a leading role wore a Dior dress that was handmade, and it featured waves of feathers in ivory silk organza, taking over 450 hours to assemble! When it came to her accessories, Yeoh chose similarly delicate pieces. The actress teamed her ethereal couture gown with some serious sparkles, opting for Moussaieff high jewellery: Earrings with 40.20 carats, a necklace with 119.30 carats and a ring of 15.51 carats, all pear-shaped diamond. What's more to say? Her watch.  A Richard Millie clear Sapphire, with a worth of…a million dollars. 
Michael B. Jordan made a grateful appearance as well. He kept his apparel well-fitted and classic, pairing a double-breasted black tuxedo, with plenty of luxury pieces from Tiffany's including diamond studs, a diamond tennis bracelet, and a diamond ring. But the two Bird on a Rock brooches ultimately stole the show. The pieces were designed by Jean Schlumberger (one of the original designers for Tiffany) and the Brooches worn by Jordan, in pink and green, can have a price varying from $67 000 to $100 000, depending on the included stones.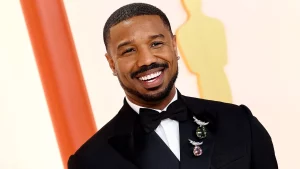 Finally, we cannot leave aside the watches. One of my personal favourites is the Paul Mescal's cartier. Mescal was nominated for the night as best actor in a Leading role and wore a Cartier Tank Chinoise, that features a grey sunray dial with polished grey steel sword-shaped hands, and a crown set with ruby. Retail prince? $32,000. Not too bad considering those we saw before.
Once again, the Oscars never fail in making these stars shine brighter and brighter, but to be honest, some credit should be given to the pieces of art fitting our favourite celebrities.