Fashion has long been a topic of controversy. Scandals flourish in the industry. Often provocative, sometimes misunderstood; Fashion always pushes the boundaries of innovation, disruption and creativity.
Brands' constant efforts to create new and unique identity and to differentiate themselves through campaigns, commercials, and designs occasionally trigger unexpected reactions in individuals who perceive it from a different point of view. Fashion is, after all, a form of self-expression representing a certain idea, theme or concept. Brands must pay attention to the way in which these new concepts are being introduced, as a slight misunderstanding may lead to permanent damage to the brand's name and image.
The bigger the industry, the bigger the scandals and the bigger the outrage. Fashion industry is one of the biggest sectors in the economy and is no stranger to scandals that disrupt the stage on which they work. Fashion houses strongly rely on marketing, merchandising and customer relationship management when it comes to the acquisition and retention of consumers. An uncontrolled scandal could have unsettling consequences on the balance and well-being of the industry. These events and their impact depend on how the public perceives them, what has triggered them and the amount of media coverage. A scandal happens when a fashion house performs an action, statement or event causing a strong and outraged response from the audience.
Most of them fall within human rights infringement, discrimination issues and cultural appropriation behaviors that hurt a specific culture, target, or segment of the population. These scandals mostly arise from marketing campaigns which are thought to be provocative but have a backlash creating rejection and discomfort in consumers. While some scandals perish quickly and solve within a few weeks others occur and do not vanish, creating a systemic change in the company. From consumer base loss to change of management team, the effects of a scandal are widely spread around a fashion house. Mismanagement and reckless marketing are worrisome for fashion houses especially now that stakeholders' expectations fall into new demands, calling for responsible and capable behavior of corporation and CSR practices.
It must be said that if controlled and well managed a scandal can be even used as a powerful marketing tool to attract attention and awareness to the fashion house, even if it still remains a double-edged sword. Scandals of this type arise from on purpose provocative campaigns that aim at provoking strong feelings and reactions in the crowd. Of course, there is a very fine line which if crossed could harm the brand, bringing customers away and creating repulsion for the brand.
Here is our Top 3 of the most controversial scandals of our beloved Fashion houses:
#1 Balenciaga:
The most recent outrage of controversy in the fashion industry concerned Balenciaga's campaign called "Gift Shop", released on November 16th. The campaign featured six children clutching teddy bear handbags, which had first been introduced in Balenciaga's Spring/Summer 2023 Paris fashion show. The teddy bears were wearing what seemed to be fishnet tops as well as leather harnesses, and looked somewhat disfigured. Other shopping items such as necklaces, sunglasses, chains, candles, wine glasses and duck tapes were placed around the children.
The campaign grabbed immediate attention and backlash, as people started commenting on the juxtaposition of the children and the items, which were claimed to indicate bondage paraphernalia. Some also pointed out the odd ways in which some children were asked to pose- particularly one child laying face down on the couch, with the teddy bear handbag placed behind it. A social media user went as far as to claim that in one of the shots, the duck tape displayed on the floor had the brand's name intentionally misspelled on it as "Balenciaga", believing that a reference to the demon called "Baal" was made. The user supported his claim by pointing out the sketch in the background which seemed to include a red figure, as well as the red shoes that the toddler was wearing which, the user claimed, seemed like devils.
A few days later, on November 21st, Balenciaga released its 2023 Garde-Robe advertising campaign. The campaign featured Bella Hadid, Nicole Kidman and Isabelle Huppert as models, and took place in an office setting. Another wave of backlash rose, as social media users recognized a paperwork from a Supreme court decision about child pornography laws, being used as a prop in the background of the shot. The brand faced countless accusations due to the indications of child pornography and abuse in the advertisements, claiming that the court papers in the Garde-Robe advertising campaign prove that the Gift Shop campaign is not simply just a misunderstanding.
Balenciaga has since then apologised for the offense that they have caused, and removed the campaign from their social media platforms. The brand also added that they were going to take legal action against the parties responsible for using the court paperwork as a prop in the shot, as it was done "without their approval". Ultimately, the brand was responsible for the final image selection, hence took "full accountability for our lack of oversight and control" of the released shots. A three year partnership with the National Children's Alliance to support children with trauma was also later announced. However, it will unquestionably take much longer time and effort for the brand to recuperate from this scandal.
A brand's ideologies and principles is one of its most significant assets that attracts customers, as they agree and associate with what the brand stands for. Once this is lost, the brand faces serious damage to its name and reputation, which is precisely the case with Balenciaga.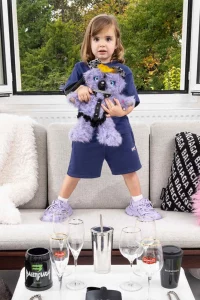 Balenciaga "Gift Shop" campaign – cc: @newyorkpost
#2 Burberry:
But the real question is: Does the lack of cultural awareness for individual countries influence the amount of scandal associated with luxury brands? If so, do luxury firms have a responsibility to become aware?
In 2019 Burberry debuted their Autumn/Winter collection showcasing hoodies that seemed to feature a noose around the neck of certain models. While the intent of the noose was simple maritime, it soon sparked scandal and controversy as many claimed it was "Culturally Insensitive."
While Burberry, soon after, released a press release apologizing for the insensitivity, the scandal was born, with many asking if Burberry had "Lost touch with reality…"
The controversy that Burberry sparked not only angered American customers, as they looked like the controversial noose used in linching, but sparked outrage around developed countries with the rates of suicide rising. Model Liz Kennedy, who was featured in the show even stated "There are hundreds of ways to tie a rope and they chose to tie it like a noose completely ignoring the fact that it was hanging around a neck", she continued "A massive brand like Burberry who is typically considered commercial and classy should not have overlooked such an obvious resemblance."
Which leads to the question: Should Burberry have known better or was this a simple clerical error?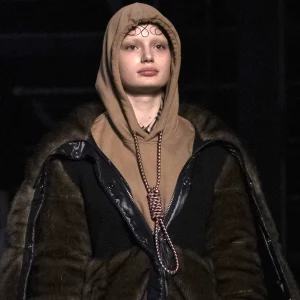 Burberry A/W 19 – cc: @theguardian
#3 Gucci:
Does it get more scandalous than 2019's Gucci?
In their Autumn/Winter 2018 collection, Gucci unveiled their 890$ worth "balaclava" knit, covering the bottom half of the face, with red lips around the mouth. Claiming the garment resembles "Blackface", it caused a serious backlash after being posted on social media, users let out their rage. Until the brand issued an apology, and interrupted the sale of the sweater. Under the circumstances, one person tweeted: "Balaclava knit top by Gucci. Happy Black History Month y'all". In a Twitter post, the Italian luxury brand said it "deeply apologizes for the offense caused by the Wool Balaclava Jumper. We can confirm that the item has been immediately removed from our online store and all physical stores, and are fully committed to increasing diversity throughout our organisation and turning this incident into a powerful learning moment for the Gucci team and beyond."
But that's not all for 2019.
In May, Gucci was accused of "Cultural Appropriation" for a $790 headpiece resembling a Sikh turban. The US-based Sikh Coalition denounced "The Sikh turban is not just a fashion accessory, but it's also a sacred religious article of faith."
Later, in September, one of their own models protested on the runway during Milan Fashion Week. Ayesha Tan Jones was wearing what resembled a "straightjacket", and held up her palms, which showed in black ink "mental health is not fashion." The model later explained her actions in an Instagram post: "As an artist and model who has experienced my own struggles with mental health, as well as family members and loved ones who have been affected by depression, anxiety, bipolar and schizophrenia, is hurtful and insensitive for a major fashion house such as Gucci to use this imagery as a concept for a fleeting fashion moment. Presenting these struggles as props for selling clothes in today's capitalist climate is vulgar, unimaginative, and offensive to the millions of people around the world affected by these issues." They later added that, along with other models of the show, they would be donating a portion of the fees Gucci paid them to mental health charities. Gucci responded saying the clothes wouldn't be sold. Alessandro Michele added that to him, the show "was the journey from conformity to freedom and creativity" and that the restrictive clothes were "part of a performance." As the show was about freedom, he defended that the models were free to protest.
"Gucci's scandals were not such a small thing. They were the catalyst for company investments in long-ignored communities, opening the door to an expanded conversation about corporate responsibility in the luxury realm" says the Washington Post. After all these allegations, the brand hired a director of diversity and inclusion.
Gucci S/S 19 – cc: @theindustry.fashion