The decade-long reign of Jeremy Scott over Moschino has come to an end, as the designer officially announced his resignation as the creative director of the fashion brand last March. Jeremy Scott's unforgettable impact on Moschino will remain forever, carrying the brand to a whole new era. Let's go over some of his most iconic collections and designs during his years in Moschino.
Jeremy Scott's influence on the brand was immediately felt when he dropped his first debut collection in Fall/Winter 2014. His collection was inspired by some of the most renowned USA-made icons, from the cartoon Spongebob to McDonalds and Hershey's. The designs were playful and comedic, yet somehow still high-fashion. His interest in American pop art was also a big influence on his designs, with its vibrant colors and comic-like appearance. Scott's first collection was certainly a success in drawing attention to the fashion brand.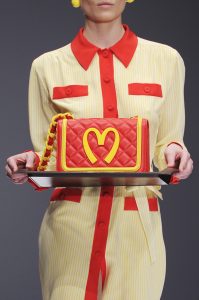 The following year, for his Spring/Summer 2015 collection, the designer used Barbie to inspire his garments. The models were wearing backcombed platinum blonde wigs, sky-high heels, bubblegum pink lipstick, and holding various toy-resembling items. The entire collection consisted of vibrant colors, mostly matching Barbie's pink and white theme. The label "Moschino" was written in Barbie bubble letters on the garments. All the designs were life-size versions of the outfits that one could see their Barbie doll wearing. The designer created some memorable designs in his Autumn/Winter 2016 show as well, under the concept of the garments being saved from a fire. The garments were torn down and had a burnt appearance, and shockingly, they smoked as the models walked the runway.
Another iconic collection was Spring/Summer 2018, in which Jeremy Scott explored the theme of "punk ballerinas", pairing contrasting aesthetics by combining leather biker jackets, corsets, fishnet socks, and knee-high leather boots with colorful tutus. In a surprise finale, he dresses the models in garments made of various colorful flowers, some resembling bouquets. The following year's Spring/Summer 2019 show was also a notable one, as it consisted of "80s vintage couture tailleurs with grand waist-cinching bows; pouf-sleeved tops and pouf skirts; and saucy wrap dresses" which were all in white with dashed-off Marker-like squiggles and shapes on them to suggest color and pattern. The collection was supposed to represent the industry's "relentless pace before the show", and the rush to finish the designs before they are displayed on the runway.
Picasso's art was the subject of inspiration for Moschino's Spring/Summer 2020 collection, as the designs were quite unique with abstract shapes and colorful patterns. "The model-as-canvas idea allowed Scott to play around with two-dimensionality, a concept that produced another of his most memorable collections, Spring/Summer 2017's life-size paper-doll clothes". During Covid-19, Jeremy Scott did not allow the darkest times of the fashion industry to put a stop to his creativity. He presented the Spring/Summer 2021 collection with a clip of puppet models walking through a room with some of the most famous audiences' puppet versions watching them, front row. Last but not least, one of his latest collections, Spring/Summer 2023, was inspired- and also made- from pool toys. The models wore garments that had various floaties attached to them. The colorful collection was fun and cheerful, and "symbolically lifted from the heaviness of the times".
Jeremy Scott is undoubtedly one of the most visionary, innovative, and iconic designers of all time. His time in Moschino proved that luxury is not just about following trends and being chic- but about imagination and freedom, as it is a form of self-expression. Although his time at Moschino has come to an end, the designer hinted that he is currently working on new projects which are soon to come.