Considered one of the most unconventional and controversial influences in the fashion world, Vivienne Westwood initially marked her name in the fashion industry with her punk-rock-inspired, deconstructive, and edgy designs.
Being a self-taught designer, Westwood's journey began by making Teddy Boy clothes for her then-husband Malcolm Mclaren. In 1971, the two opened their first small boutique named "Let it Rock" in London, where she sold her designs. A year later, they rebranded their store with "a skull and crossbones", renaming it "Too Fast to Live, Too Young to Die". Westwood's head turned to biker clothes, focusing on leather and zips. She and Malcolm proceeded by creating t-shirts with "provocative printed slogans", leading to their prosecution under the 959 Obscene Publications Act. They responded by rebranding the store once more, continuing to manufacture the same type of controversial clothing. In 1974, the shop was renamed "Sex", and used the slogan "rubberwear for the office".
Vivienne Westwood – cc: @wwd @viviennewestwood
When Malcolm became the manager of Sex Pistols, Westwood's designs dressed the band, molding its identity and image. Westwood became the epicenter of British fashion, representing the punk rock era fueled by rebellion and chaos.
In 1980, the shop was renamed once more as "Worlds End", which has not been changed since. Nevertheless, with the collapse of Sex Pistols and the punk-rock movement coming to an end towards the 80s, Vivienne Westwood was encouraged to relocate her vision to new directions. She collaborated with Malcolm Mclaren to create the collection "Pirates", which ended up being their first official runway show in 1981. The collection included "romantic looks in gold, orange, and yellow" as well as "pirate's galleon and ship features". The Autumn-Winter 1981/82 fashion show took its inspiration from Native American patterns, and the baggy, loose-fitted designs contrasted the previous punk rock style, which included tight leather items.
While street style and youth culture were the birth of her label in the 70s, Westwood encountered a drastic change during the 80s. Her focus shifted towards the "traditional Savile Row tailoring techniques of British fabrics", as well as 17th and 18th-century art. She worked with traditional rectangular cuts and continued applying the technique to her designs in her later work. She "revived the corset" in 1987 with her "Statue of Liberty" bustier from her "Harris Tweed" collection. She converted the garment from underwear to outwear, and it became one of her most iconic designs which frequently reappeared in her future collections.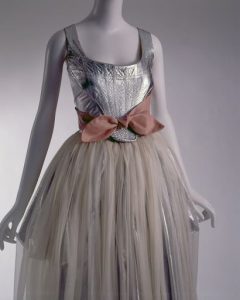 Statue of Liberty bustier – cc: @pinterest
During the 90s, the designer started including wedding gowns in her collections and created her first-ever men's collection. She dressed many famous supermodels like Naomi Campbell and Kate Moss, creating numerous iconic fashion moments. One can probably recall the show where she made a parody of Marie Antoinette using a topless Kate Moss, licking ice cream as she walked at the "Erotic Zones" S/S 1995 runway show. Another moment that went down in fashion history was Naomi Campbell wearing the 13-inch platform "Super Elevated Ghillie Purple" heels in the Fall/Winter 1993 "Anglomania" runway show, where she stumbled and fell but laughed it off.
Kate Moss in "Erotic Zones" S/S 1995 – cc: @fanpage
Westwood's unmatched sense of rebellion was once again witnessed in 1992, when she visited Buckingham Palace to receive the "Order of the British Empire" honor from Queen Elizabeth II. When the designer twirled for the photographers outside the palace, failing to recall that she did not wear underwear to the visit, her privates were exposed from under her grey tailored skirt. Although it would normally be considered an unspeakable offense to the queen, it was said that the queen was actually amused by the moment.
Throughout her career, Westwood's sources of inspiration for her collections have been limitless-politics, movies, mythological themes, songs, books, street fashion and upper-class fashion, British culture and tradition, artworks, paintings, even concepts like elitism, female empowerment, sexuality, and more have played a part in Westwood's work.
Using her designs, collections, and runway shows as a platform for awareness, Westwood perceived fashion as a tool for activism. Political labels, slogans, and controversial prints have always been designated to Westwood's brand. Since the 2000s, she increased her focus on sustainability, climate change, and over-consumption, removing fur from her line and producing vegan items. Westwood, with her rebellious, provocative, and unconventional designs, played a major role in shaping the idea that fashion is a form of self-expression and a tool for creativity. By crossing the boundaries of the typical fashion of her time, Vivienne Westwood is responsible for revolutionising the fashion world.